Half dozen ( 6 ) young Bluenose Shiners, Pteronotropis welaka
F2, hatched 6/22/2010
Donated by Philip Kukulski
As seen on Aquabid
and eBay

Bluenose Shiners are rarely seen because they like streams
up near the swampy headwaters.

Young fish -
ship better
acclimate better
live longer

CARE
These fish are happy being fed flake food in normal freshwater
(average: 150 ppm hardness, pH 6.8, 72F; tolerant of a much wider range of water conditions than most tropical fish.)
My friend, Charlie, raises Bluenose Shiners from 1 inch to fully mature with fins and color in 3 months. Another friend, we will call him Leo, has kept Bluenose Shiners alive for 4 years. I had 4 males and 3 females breed their second year. Information on breeding Bluenose Shiners is available at NANFA.org, and updated information will be in the Fall 2010 NANFA American Currents magazine.

young Bluenose Shiners



Parent stock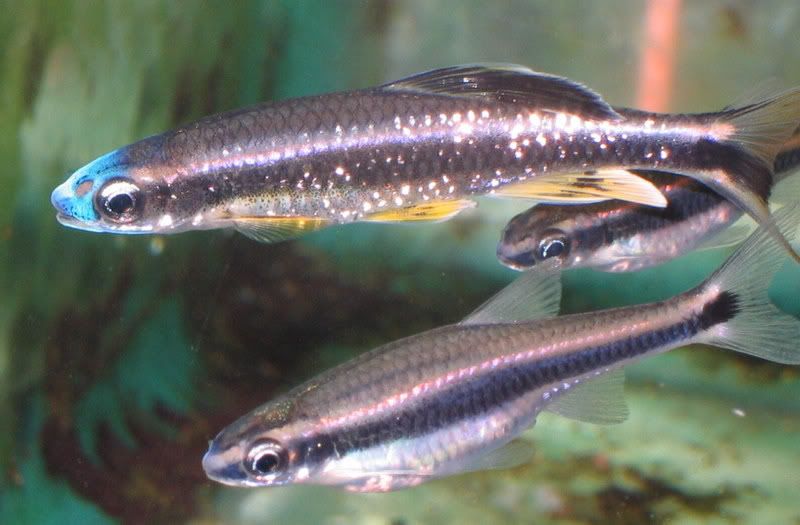 Sparring video


WHAT YOU GET IN THIS AUCTION
fish
STT-521-500 Saf-T-Temp Controlled Room Temperature (CRT) PCM Pak
(reusable cooling/heating, purchased by me for $5.40),
insulated shipping box, free handling.

FREE SHIPPING
To United States only, excluding GA and FL
by USPS Priority Mail, delivery confirmation, and insurance ($22.00 value)

FISH ACCLIMATION
Never float a Kordon Breathable Bag in water.
Cut open the Kordon breathable bags and pour into a small container. Add 50% more water from your tank into the container. After five minutes, again add 50% more water from your tank. After 5 more minutes, pour the fish into your tank.