well, i finaly decided to start a thread about my ostracods. i find them to be an excellent live food for small fish since they stay alive untill eaten, and spend their time eating detritous while they are alive.
about a week ago i emptied my ostracod tub i have outside and harvested all the ostracods. i let the sand at the bottom dry in the sun for a day and refilled it with water. i can already see thousands more that have hatched out. they are a little larger than a newly hatched baby brine shrimp.
here is a pic of how i culture them: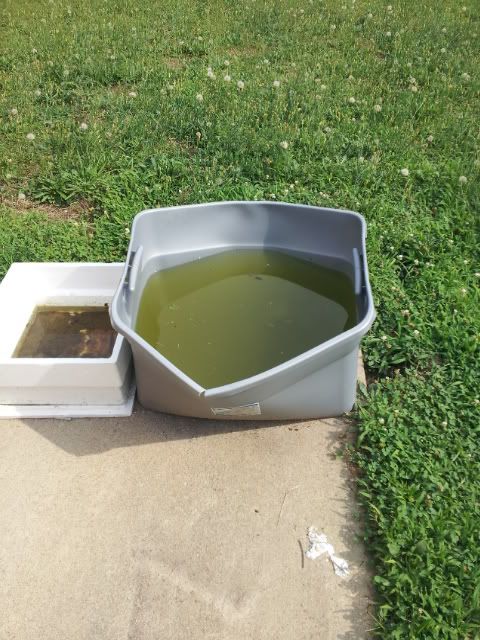 the tub on the right has the ostracods in it. in about a week they will start laying eggs. ill let them go for another ten days or so in order to allow them time to lay eggs, and then i will harvest all of them by pouring the water through a metal coffee filter and restart the whole process. fairy shrimp would also grow in this setup if it was moved indoors where the temps are a lot lower. i get the green water going by adding a squirt of phyto feast to a ten gallon tank and adding a light and aeration to it. when the water turns bright green(in a bout a week) it is ready to start seeding cultures and feeding to my daphnia.
there really isnt much to it. i find that you really cant keep a culture going to long, most of the eggs need to be dried out in order to hatch.
if you time the hatches and harvest out right, you can get nauplii at any stage of their developement. this fact has allowed me to raise nothobranchius species exclusively on ostracods in the past.
anyway, thats about all i can think to include right now. im sure those of you who are interested in this will come up with questions for things i forgot to include.
Auban.