Man I haven't been on here in a while haha, need some catching up to do! Anyways today I went for a little trip in search of Northern Sunfish, back to the spot I caught two many years ago. Well it took a little while but I got into them. Caught roughly 8 or 9 of them once I found them. A lot of them were maybe 3" or so, tiny little guys, biggest pushed 4" if I had to guess. Could be because I also live right near their northern range.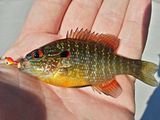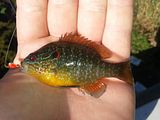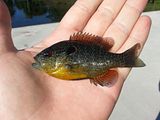 The past two summers I have been employed at the Harkness Laboratory of Fisheries Research, and this year has been a real treat sampling a lot of lakes in the Algonquin backcountry. One of the lakes I visited was this past week, where we caught these (purpose of the trip):
Pelagic Lake Whitefish. If I remember correctly there's 2, maybe 3 lakes in the park that have them due to a lack of Cisco. Definitely neat seeing the little guys, especially since they're a rarity.