These were taken last year, in a section of river that's had some issues. I was curious what kinds of sunfish we had, so I decided to go fishing. I cooked some table shrimp and brought it with me as bait- figured the smell would get their attention. I mostly had about five zillion shiners come darting up and nibble all my bait off, and I was afraid to yank it away because I've seen a couple of foulhooked shiners slowly die thanks to gill damage. So after a while, I'm standing in two feet of water, trying and failing to get the attention of some sunfish, and there's about two dozen shiners swimming around my legs. I still had plenty of bait, so I just stuck my hand down in the water with some bait, and in about two minutes half the shiners were nibbling on the bait. Next thing I know, a sunfish is kinda just sidling up. A few sunfish hung around the edges for a minute, then one darted in and got a bite. I kinda gave up on catching them at that point, and I decided to just photograph them. This was way more fun, for me and for the fish.
About ten minutes later, about eight sunfish were taking turns grabbing food, the shiners were still around, and a baby trout was eyeing me. Trout never came over- too shy, I guess.
I know there's an orangespot or two in there, and I'm pretty sure there are some greens. Any ideas what the others are? Also, which are the female orangespots?
You'll have to excuse the weird angles, this is me bent over with my waterproof camera. Those are my feet and the camera is not upside down, so I was kinda doing standing-up yoga in an effort to get good pictures of these guys.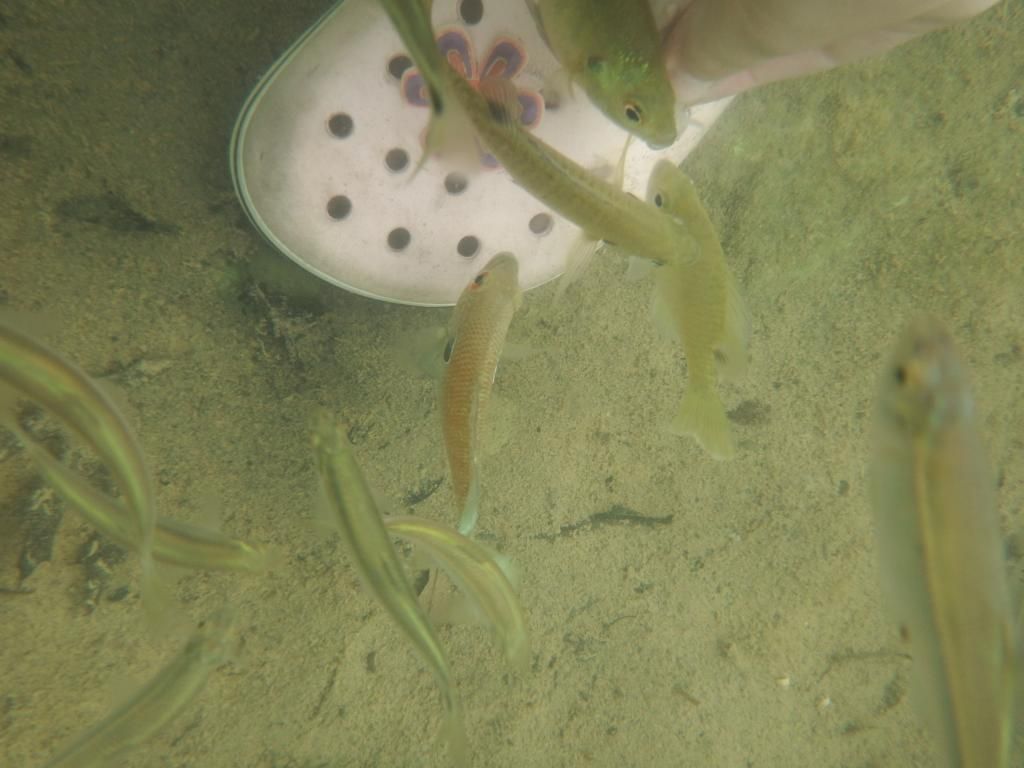 That one beauty of a male orangespot kept turning up. Honestly, I wanted to keep him. I didn't know if he'd eat my glowlight tetras, though, and I didn't know if he was legal to keep. I left him alone.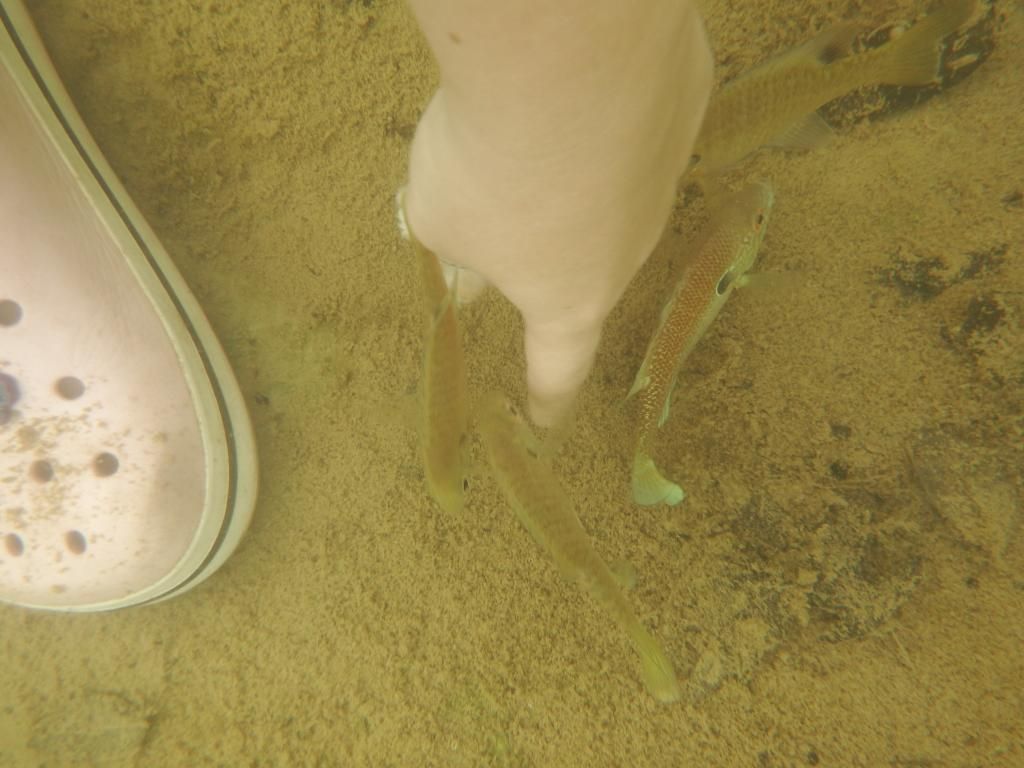 Not sure if that's the same orangespot or not, I think it might be an even prettier one. This was me trying to pet them with the food hand. They didn't seem to mind so long as I let them get the food. Are the two in front of my hand female orangespots? They look like it, but I'm not certain.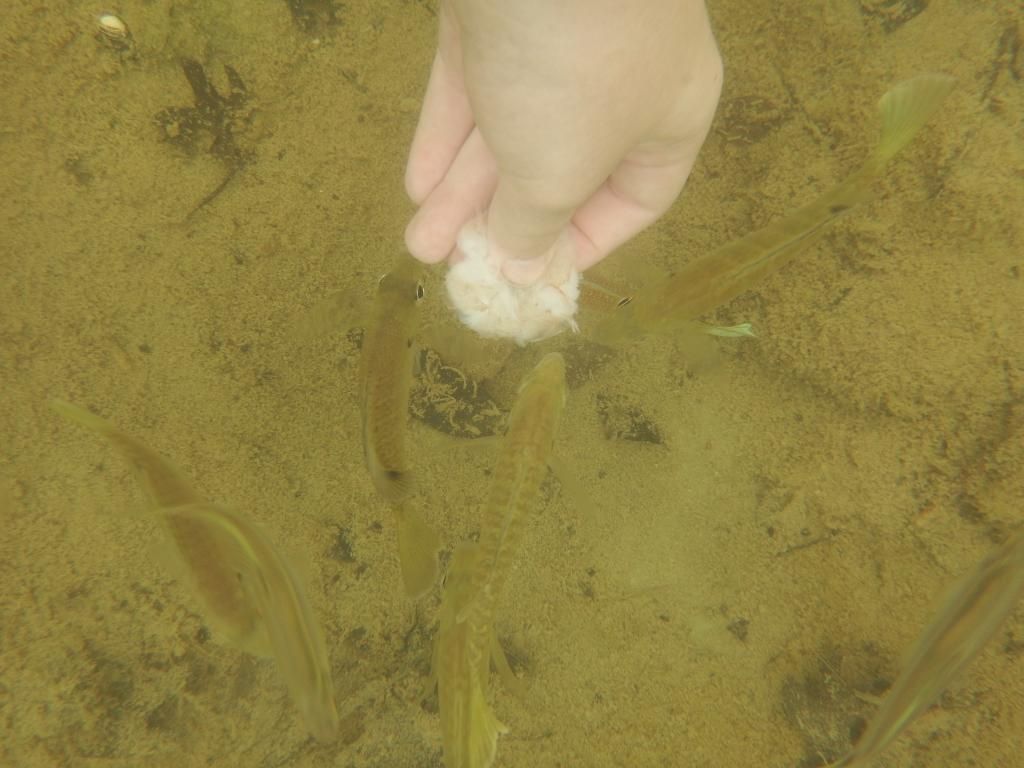 Fairly sure the big one to the right is a green.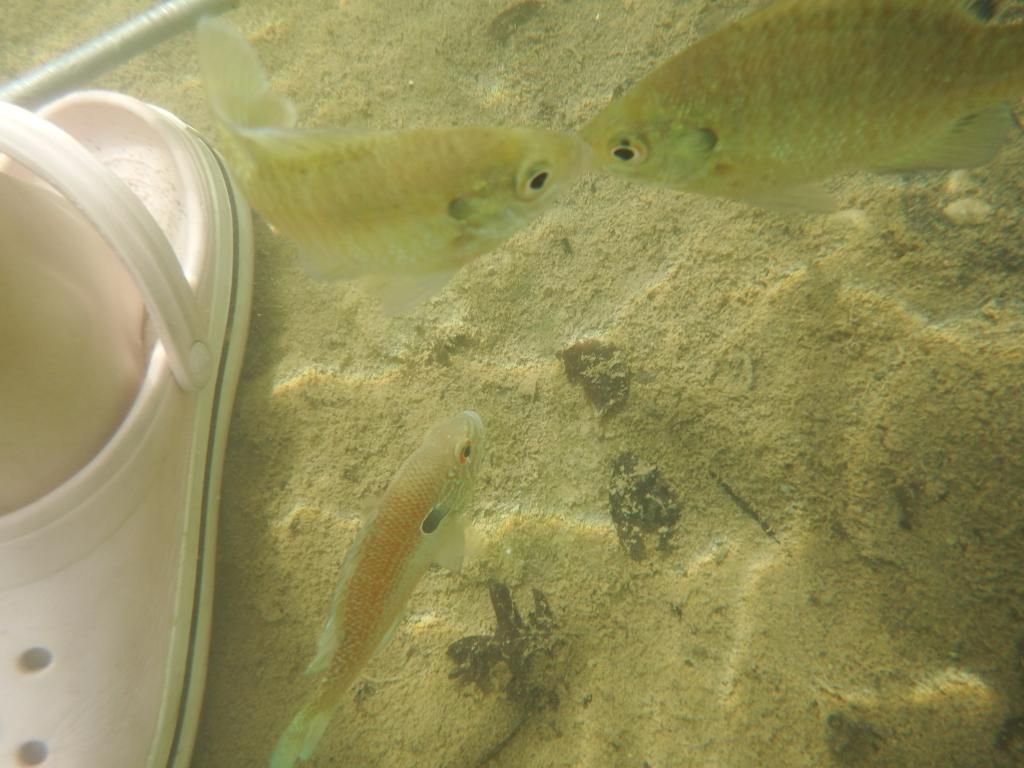 Is this a territorial thing for sunnies, or could they have been playing tug-o-war with a bit of food?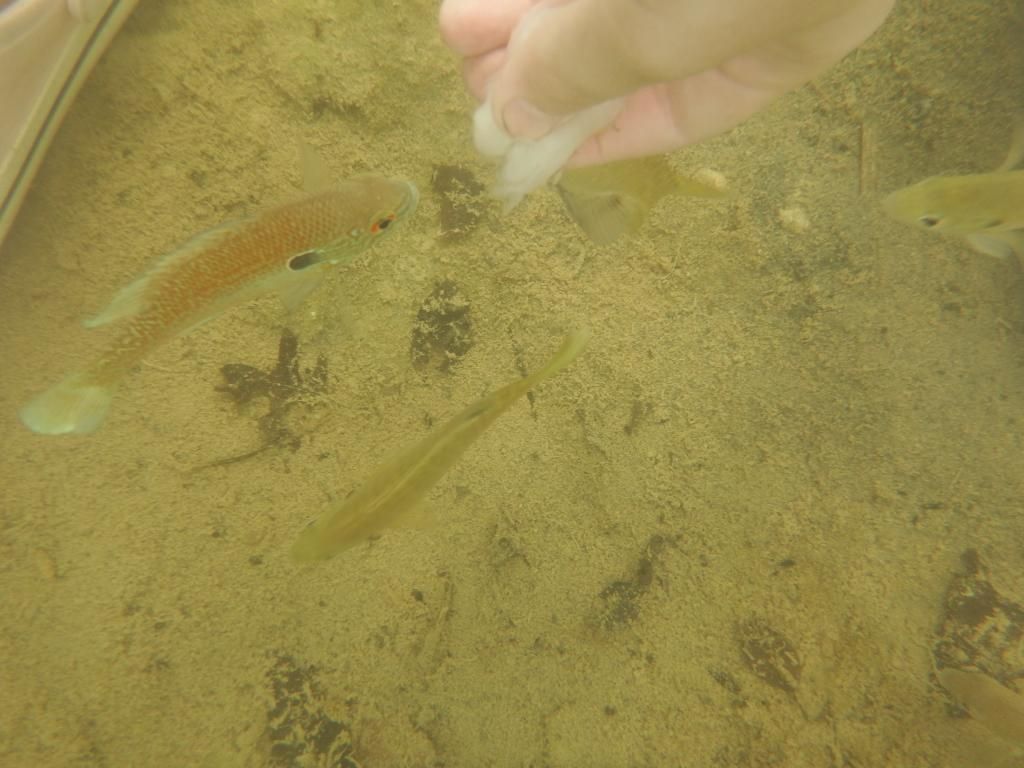 Biggest orangespot I've ever seen in that river. Not shy in the slightest.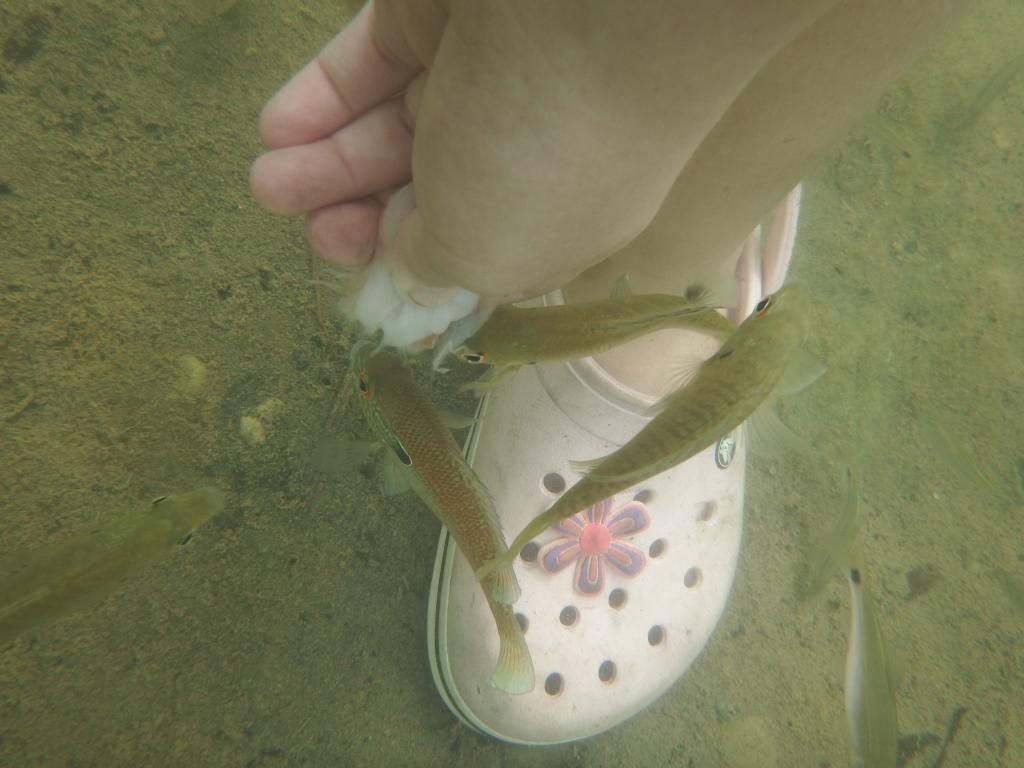 There we go, decent photo of some not-male-orangespot ones. Also the best photo I have of the shiners. Well- a non-blurry photo of 5/6 of one. Is the little shiner under him a small one of those (blackspots, I think they're called, or blacktails) or something else?
Any clue what this guy is? I only saw this one, off in a separate area. I think the one directly behind it in the second picture (not the shiners, the one behind that, the one with the odd head) might be a younger one? These live in a pool that's mostly separated off but is fed by streams and never dries up. I've seen fish jump to the rest of the river if they want, it's just really shallow around that area.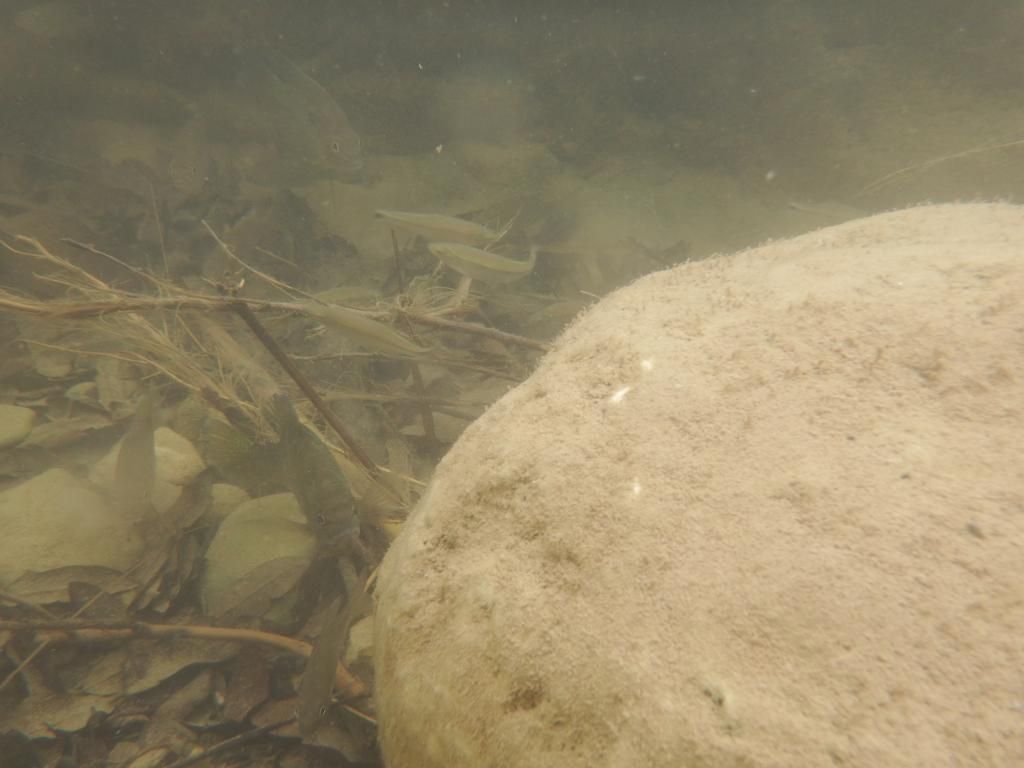 Caught my attention because it's a lot darker than the others I've seen. It didn't look stressed or like it had a reason to be unusually dark... could it be some form of a hybrid? Is the one right in front of it here the same type?