Hello fellow fishkeepers,
My name is Tony. I'm a graduate student at SUNY Albany persuing a Ph.D. in physics. I started my fishkeeping obsession my Sophomore year of undergrad. It began with a 10 gallon betta planted aquarium and quickly infected the rest of my residence. My biology is rudimentary but I love blending my knowledge of physics and chemistry with the unknowns of biology.
I have my most experience keeping African cichlids. Over the past couple years I've grown up a fairly prolific breeding colony of Labidochromis caeruleus (Yellow Lab Cichlids). They breed like rabbits and the parenting behavior of cichlids is so much fun to watch.
One of my other favorite things about this hobby is it blends science with art. I'm not an artistic person but I do get to experiment with some creative projects through aquariums. A few years ago I built an underwater LED volcano. I used a 555 timer, red and yellow LEDs, and a potentiometer to dial in various frequencies of the flashing light. It really looked like magma bubbling up from under the rockwork. Another fun project involved building a foam and concrete background/aquascape for my 55G African cichlid tank. That made a HUGE mess but boy was it a fun project.
Here are some FTS of my aquariums (they're all at least a couple months old but you get the idea).
55G African Cichlid Tank
Inhabitants: Metriaclima elongatus (sp. Chewere and sp. Mphanga), Labidochromis Caeruleus, Synodontis eupterus, and an Aulonocara.
29G SA Community
This photo is about a year old and the stocking has changed but the idea is still there.
135G SA Cichlids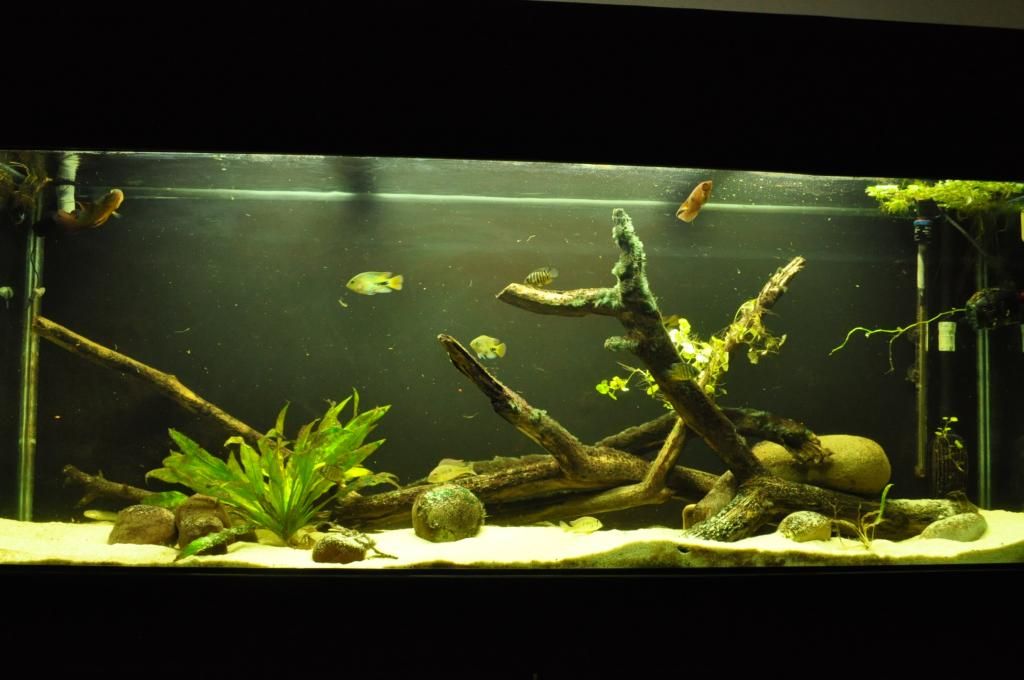 Last summer I put together my first monster tank. The dominant fish are a pair of Hypselecara temporalis (Chocolate cichlid), backing them up are some likely soon to be too large Vieja synplisum, Heros severums (GORGEOUS!), Geophagus 'Red Head Tapajos', a tire-track eel (not a SA cichlid), and a couple bichirs (also not a SA cichlid). As these fishes mature I'll likely have to thin down the stocking.
For the interested viewer I composed a video series about what I did to put this aquarium together.
https://www.youtube....yFtzkXQh2aPXh2i
I've dabbled a little bit in some Asian and subcontinent species, explored some mbuna of Lake Malawi, and poked around the Amazonian tributaries. I think it's about time I try learning a bit about more local ecosystems. I've been considering changing the 55G aquarium for about a year now. Yellow labs are great but I want a change of pace. Was considering trying some other African species but then I thought to come home.