I have a 65g sunfish tank I'm going to rearrange as soon as some wood finishes soaking. I need to figure out how many males I have, so I know how many nest spots I need to provide.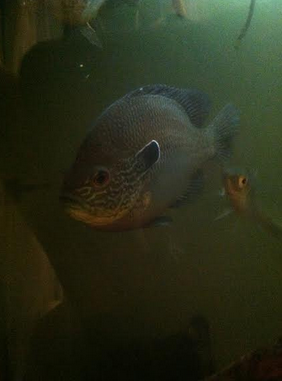 This is my big male. He's a bit more colorful in person, my cell phone does not like the tannins in the water.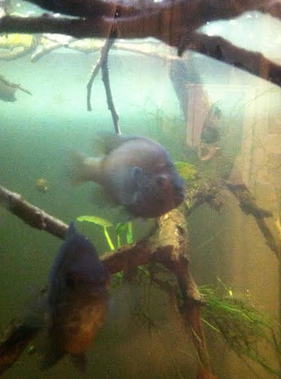 I'm not sure who's up front, but the one in the back is Rusty. Rusty has been tucked into that corner behind him, firmly defending it from everyone. I know corner-hiding is normally a bad sign, but there's another corner he could totally vanish into, so I don't think he's trying to get away. The big boy normally leaves him alone. I'm about 90% sure Rusty is a male, as he's fairly close to the big one in color.
I have four others. Three are a bit under 3" long, one is about 2".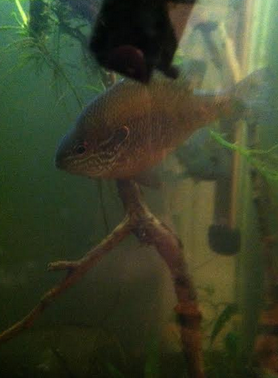 I think those two are males.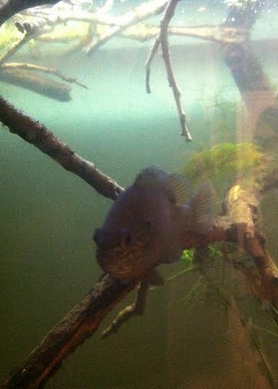 This one has a slight dorsal spot and may be part bluegill. I've found longear/bluegill hybrids in his river, so this one could be 1/4 bluegill or something.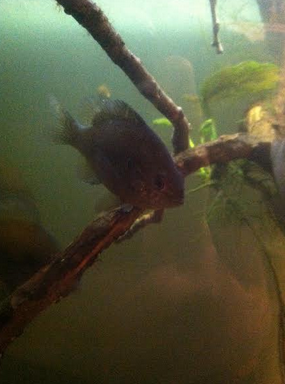 Little one.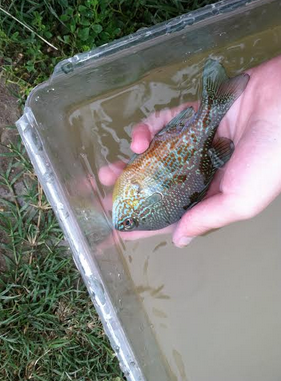 This is a sunny from a couple miles down the river, and I assume he's from more or less the same genetic stock. He's very plainly a male. Two things I notice (aside from the firework colors) are the hump on his head and the thick white edge on his ear. 
My biggest one has a thick ear edge, but no head hump. Rusty has a large head hump and thick ear edge. The two I think are males have small head humps, and the other two don't. Is that one way to sex longears? 
If not, is there any way to sex juvenile, subordinate longears?