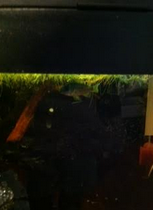 I found this tiny baby scooting around in the ghost shrimp tank at my LFS. Poor thing was really scared, and I wanted to see what he is, so he's now living with me. If he gets too large or will be aggressive, I can rehome him. 
He's about 3/4 of an inch long, with vertical dark stripes that vanish if he's scared. He's very active and excitable, but he doesn't seem aggressive. That could change, of course, since he's just a baby. He's not a fussy eater, and he seems to prefer hanging out near the surface. He keeps trying (and failing) to eat the duckweed. 
Anyone know what he is? I know the picture isn't great, but we can't have that many native cichlids. I'm assuming he's native to somewhere in the US, because it doesn't make sense to import ghost shrimp. He didn't jump over from a different tank, because they keep their feeder tanks against a separate wall. He either came in with the ghost shrimp, or he came in with the rosy red minnows. Interestingly, their shipments of rosy reds have had a lot of unknown platy-like livebearers in them lately, so he might have been in there as well. 
I went and compared him to all the cichlids they have in stock, and he didn't quite match any of them. I'm about 97% sure he's a native of some brand, hence why I'm posting here.