Sunday i returned to a favorite site late in the afternoon.  This is where a mill use to stand and a long cobbled riffle run leads to a deeper flowing pool just beyond the active bridge.  Upstream is a nice clean gravel seep that releases cool water into the creek's flow, helping a bit with clarity.  Today's visibility felt about 4' with the low rays of the afternoon sun providing some nice lighting.  Still my camera is pushed to make use of this low light situation and i continue to experiment with higher ISO setting, producing faster speeds and later using Corel Draw to enhance and alter the images and color.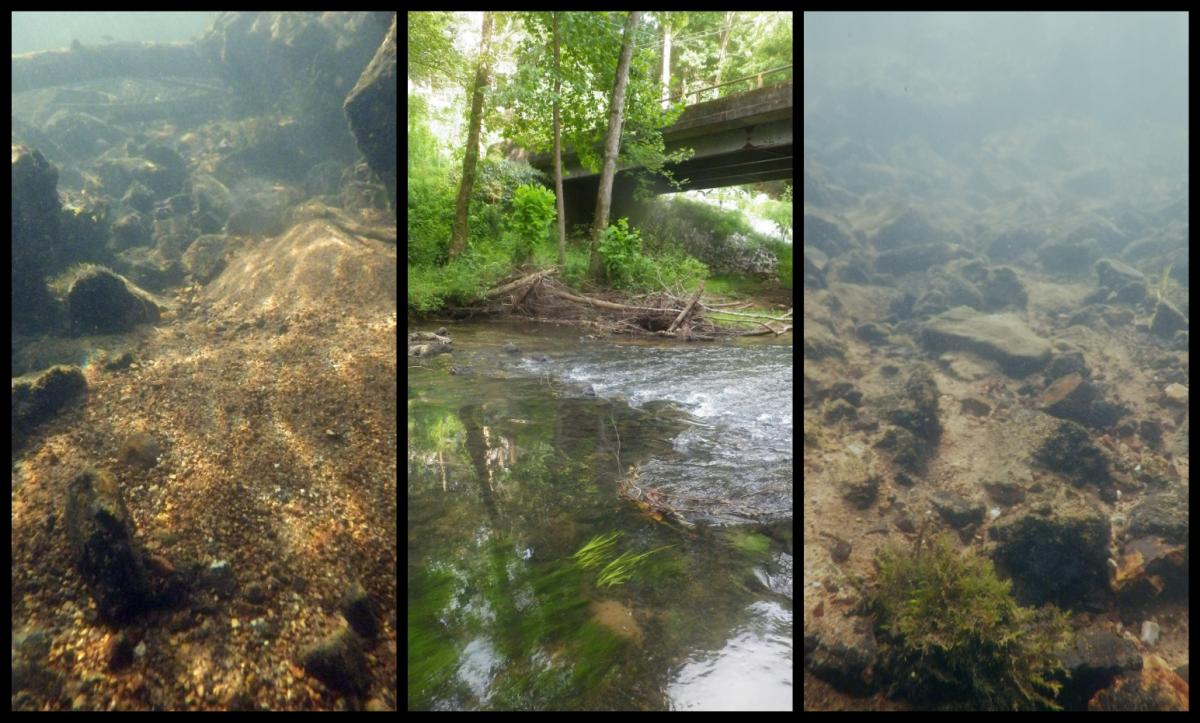 Bracketed by the two cobbled substrate photos is the bridge crossing looking downstream.  The mill site is just beyond the bridge and olden stone and concrete structures remain. Several submerged plants are growing here, a common val, some type of thin fine leaved val and on the stones in the pool are lush growths of a mossy plant, somewhat similiar to Java Moss.  The more plants and cobble i see, generally the better the habitat locally.  In many cases the major damage to these urban streams has already occured and if there is no current disturbances they can be reasonably clear, and full of diversity, though nothing like before man made such a major impact on the watershed.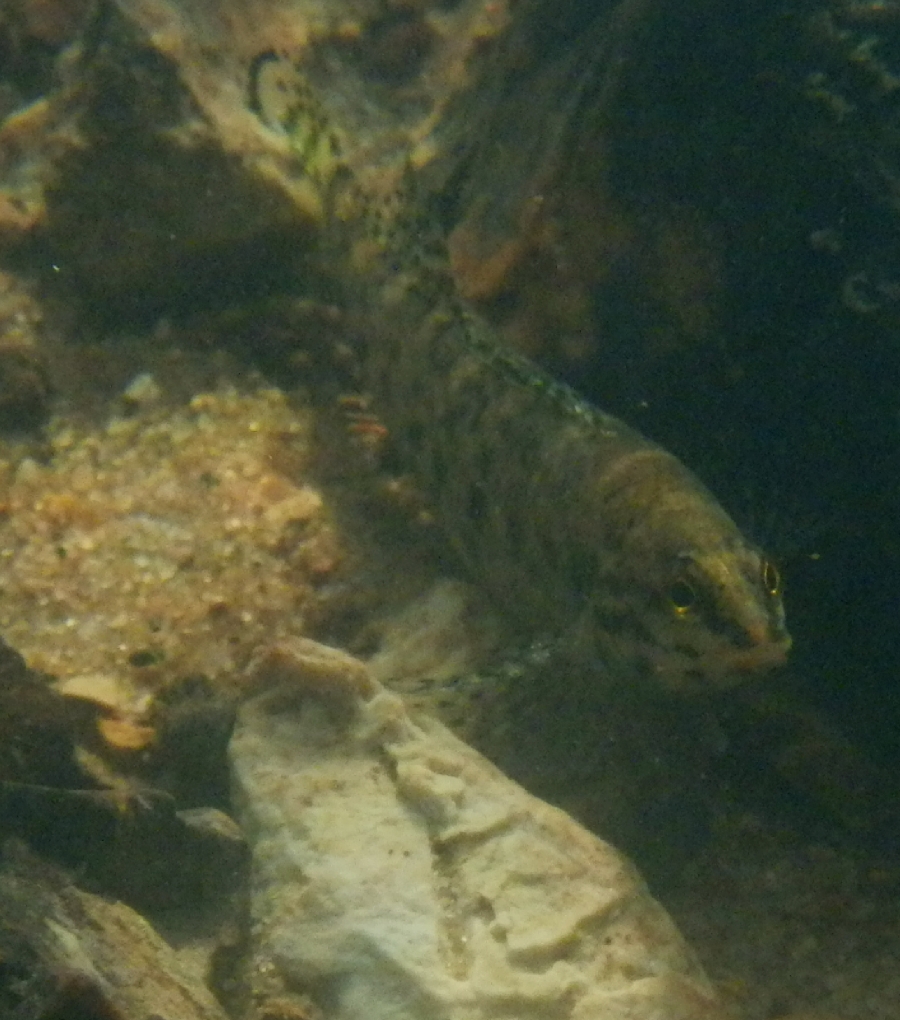 Several young Redlines were scattered in and out of the cobble.  I caught this female considering my approach, i always like those Redline eyes looking back at me.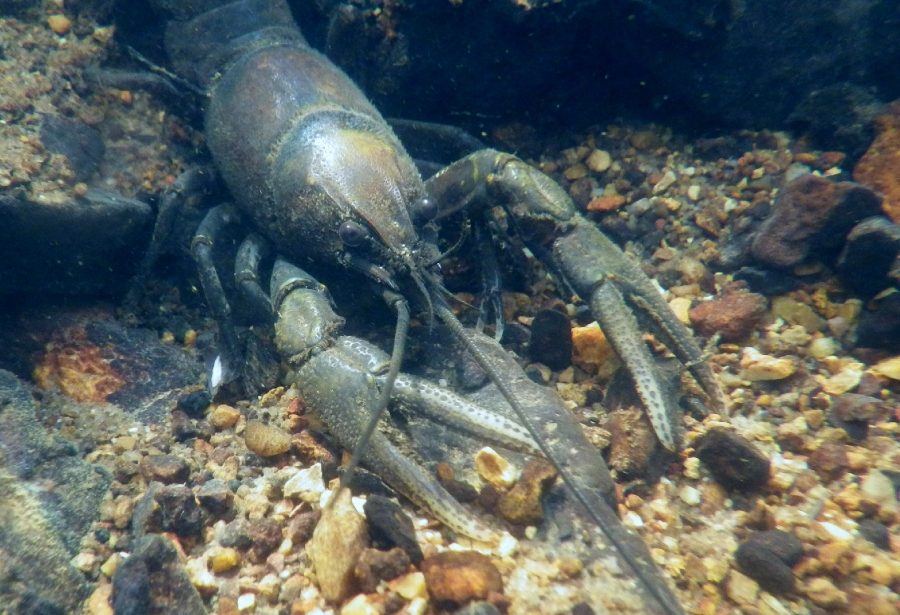 I turned over a chunk of stone and found this dark crayfish, species unknown to me but holding steady for several photos.  I encounter a lot of Crayfish variety in the area.

Logperch are common here, probably a result of the cobble available for them to flip and hunt.  Adults and several 3" juveniles of which this is one.  I had cleared out a little area, moving the larger stones and fanning the silty debris away.  Within a few minutes all the various darters were moving in to pick at the exposed micro organisms.  Mostly Snubnose Darters, a few Redlines, a couple Rainbows, several Bluesides and of course the Loggies.  In the past, upstream and under the bridges shadows i have found hefty Greensides.  Not much more to expect here, but i always hope to see a Snail Darter as i do not believe one has been documented on this side of the river.  Duskies could make an appearance under brush or tree snags.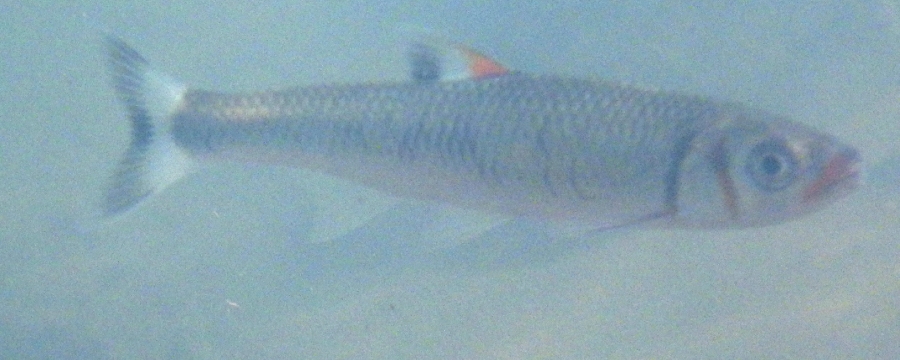 A pair of Warpaints were swimming high in the pool behind me.  I was suprised to catch this one with my camera.  ISO was set high at 800 and speed was 1/800.  I processed the image a bit to bring him forward out of the haze.
After i had enough, and a bit chilly with the sun setting behind the trees i explored upstream a bit and found 4 old but distinct River Chub mounds.  This may well be my most convenient option to observe active nests locally come next spring.  I may get 6' of visibility on the right day if i am lucky.  Though a lot of trash gets thrown off the bridge, ( yesterday i found a purse and a lot of clothing ), it is still an interesting location.  If we get into a drought situation later this Summer i will return for the potential increased clarity.  South Chickamauga Creek behind my home rarely offers enough clarity for such behavior.