Rock Creek
Years ago i enjoyed this site but then something disturbing happened to it.  On my first visits it was a coarse cobbled flowing stretch of clear water full of Hogsuckers and various Darters, but upon subsequent returns it had turned into a flowing silt pool, miring in deep mud with any attempts to wade in.  Rock Creek flows off the plateau in a dramatic waterfall and then races over tumbling boulders during major rain events.  Perhaps property development or clear cutting was involved on the plateau, what ever the cause i had given up on it the last few years.
I had been skunked on a drive to the north a couple Sundays ago so headed south in hopes of finding clear water.  I stopped at the bridge and looked over to see the sand but also several schools of Minnows, Sunfish and a few Suckers in the clear 3 or 4' deep water.  Excited i worked down the slippery muddy bank beneath the bridge and stepped off thinking i was going to sink to my knees but instead was met by firm coarse sand.  Several Black Spotted Topminnows came to greet me as i waded to thigh deep water and kneeled down acclimating me to the suprisingly chilly water.  It was reasonablely clear and and i soon found a cloud of shiners gathered behind me feeding upon the disturbed dietris.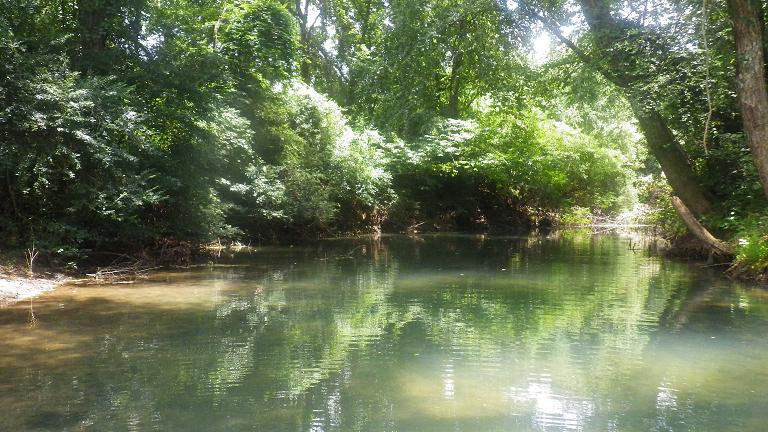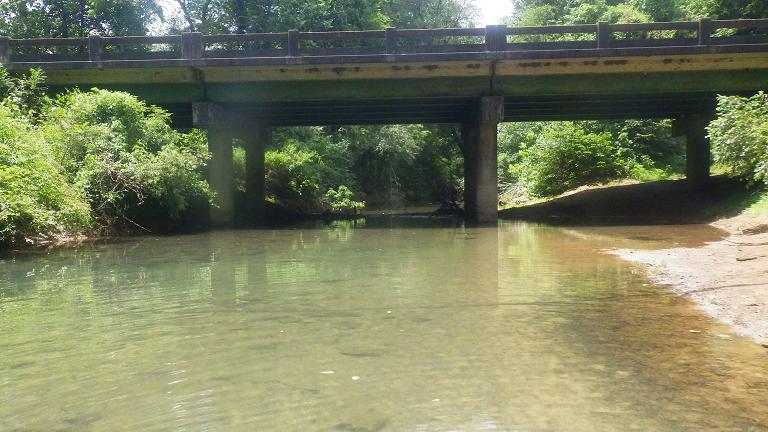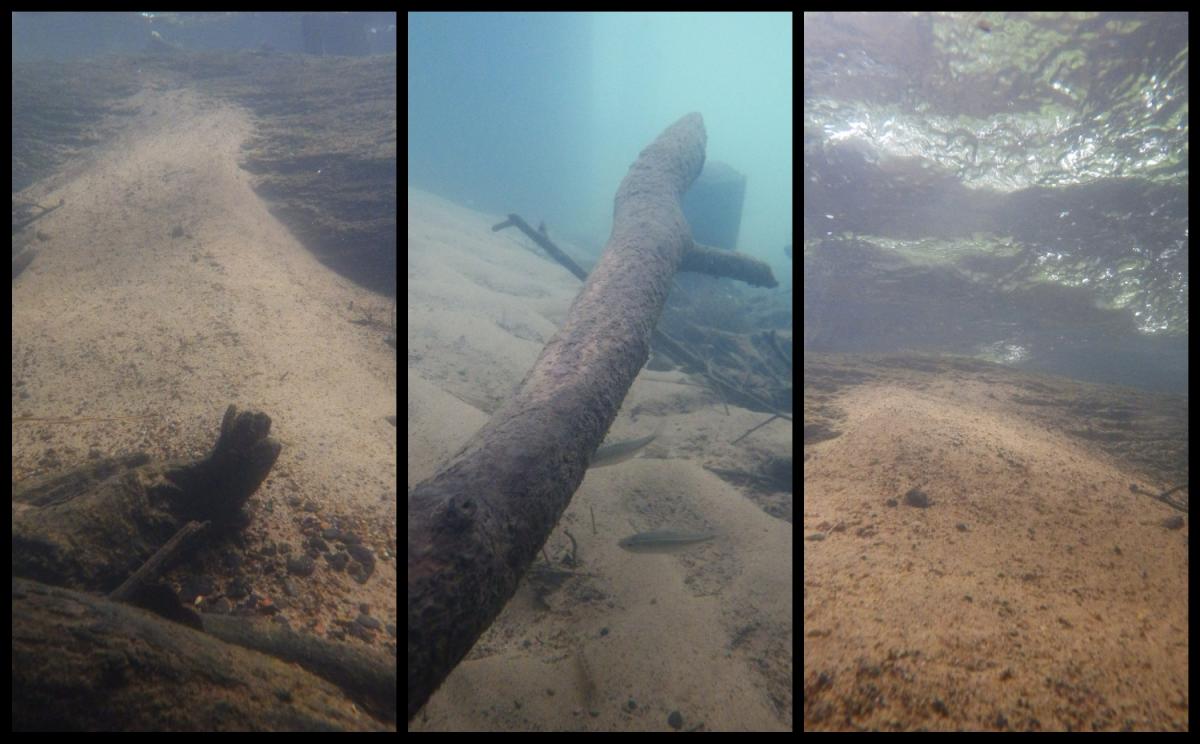 Upstream is what interested me, flowing water over a log jam against the bridge's columns.  This is where the fun stuff gathers.  The water was gently flowing over an angled log with the sloping sand swept clean below it.  Hundreds of Snubnosed Darters were gathered in the flowing pool and the adjacent sides which were littered with all manner of woody debris.  Suprisingly also among the Snubs were a pod of Dusky Darters.  I had seen them years before downstream but it was especially nice to see such a large group here.  I began to make out the schools of minnows, the ones swimming low over their favored habitat were Bigeye Chubs and higher in the column were hundreds of Striped Shiners.  I was quite pleased to see so much life here and the proper species for this habitat.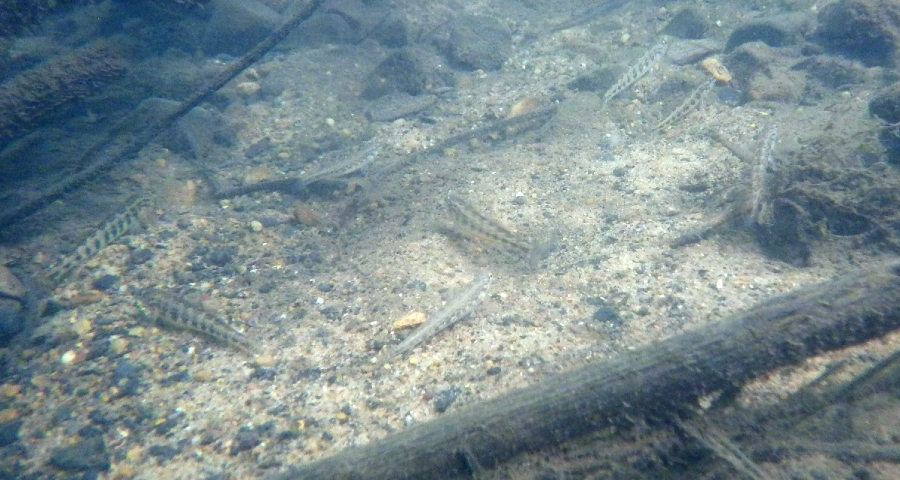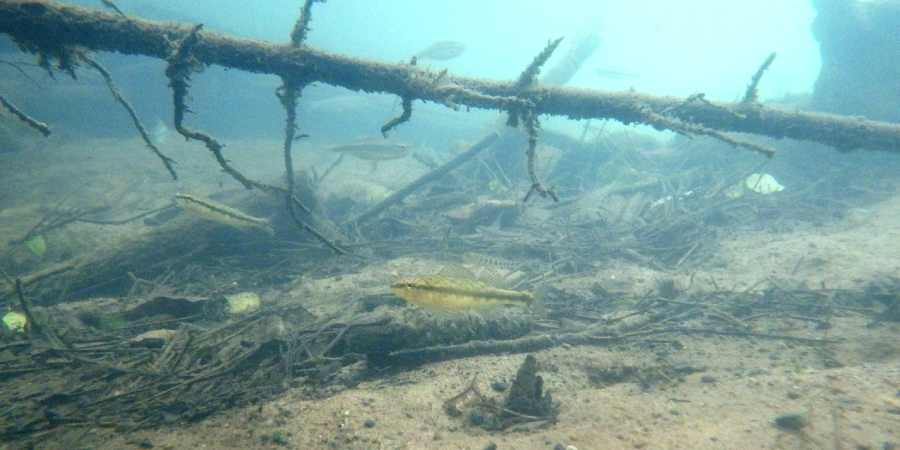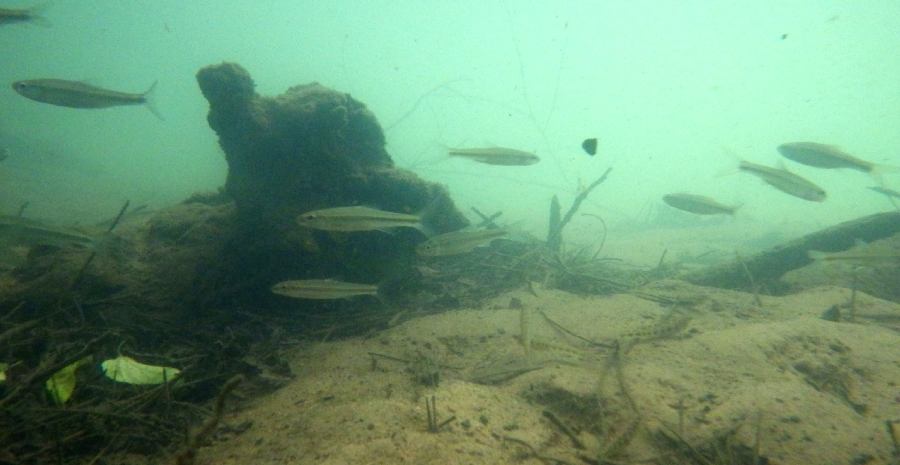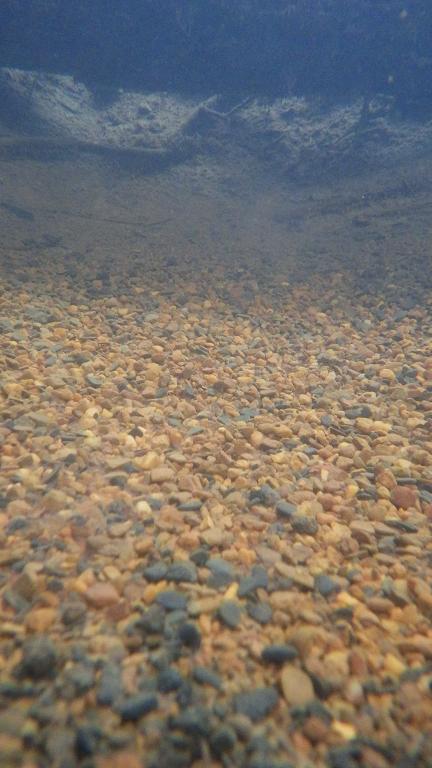 I explored around the quieter pools to the sides and found a Redbreast Sunfish sitting on a saucer shaped nest.  Nervous he would flee upon every approach, no matter how slow and easy i was.  Getting close i noticed instead of the coarse sand his nest was lined with fine gravel, a bit of a surprise considering what i have been seeing over the years.  I took a few photos of his nest but could not detect any movement of fry nor eggs.
As i was enjoying the experience a chattering couple walked down under the bridge and were soon wading upstream past the log jam, of course mucking up the limited visibility i was enjoying.  I thought about asking them not to but instead floated downstream into the woods were i encountered another log jam with surface scum backing up, never appealing for a snorkeler.  I didn't really see much of anything but some bass lurking in the shadows.  After a bit of frustration i returned to the bridge where the couple had gotten out.  I poked around a bit watching a few Rainbow Darters in the quiet areas before getting out and approaching the couple.  I always enjoy people's expressions of bewilderment when they see the soggy beast rise out of the water.  She said they were looking for some kind of swimming hole her daughter had spoke of but i could think of any swimming hole in the area... which of course i would be interested in.  They were pretty confused all things considered and soon returned to their car.
With their departure i decided to return to the van and drive upstream to a railroad crossing.