I posted my trip report over in that folder, but figured I'd ask for some IDs here.  These all came out of Indian Creek, a tributary to the Tennessee River in Huntsville AL.  Photos are all thumbnails, so click to enlarge.  Going through the fishes that fishmap.org says are in my watershed led to the guesses below.
bluntnose minnow?
Scarlet Shiner?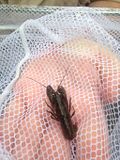 Crayfish, duh.  Do we have multiple species 'round these parts though?  Fishmap didn't seem to have anything on inverts so I'll have to search elsewhere for that info.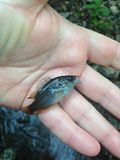 Juvenile green sunfish?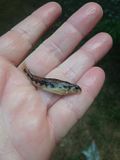 blackside snubnose darter?
thanks!
-Rick
P.S.  In spite of the title, there was no collection.  Just a survey.
Edited by gbeauvin, 21 May 2016 - 09:13 PM.