Day 1, Saturday May 21, 2016   Hiwassee River Return
Dave and i had planned on meeting at the Little River Saturday noon but a night of rain had driven the guage higher.  Studying our options and with the Hiwassee Dam controlling flow and rain events, and the river running unseasonably low and warm we decided to rendezvous at the Hiwassee Picnic Site about 11:00 am.
It was overcast but the water was reasonably clear, but at a chilly 65 degrees.  This time i was prepared putting both my wetsuits on yielding a total of 4 / 6 mils.  We drifted downstream in search of active Chub mounds, Hellbenders and Tangerines.  I found a large mound and held on just downstream pulling myself under repeatedly for an angled view.  Before long a well worn male appeared and began to add rocks.  There was no real activity otherwise, as no other species seemed interested on this overcast morning.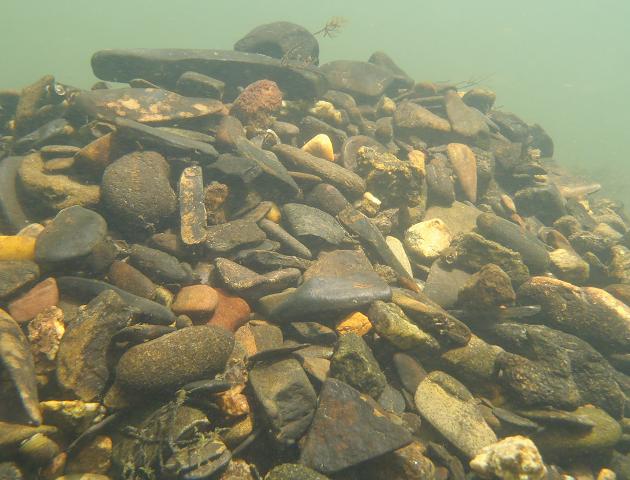 River Chub mound, piled high.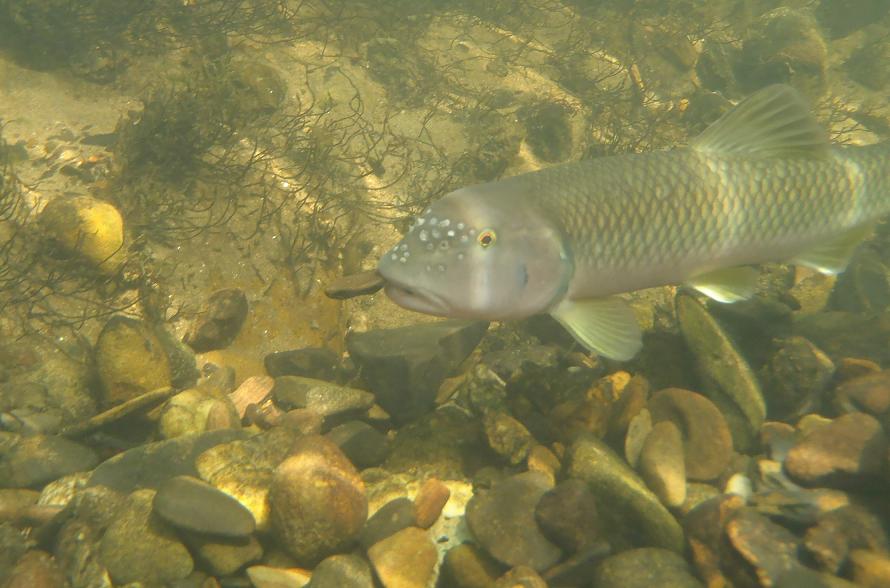 The architect adding another stone.  A bit battle worn late in the season with his missing tubercules.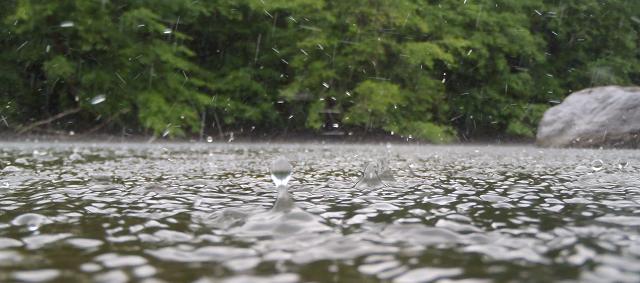 Rain drops were falling on our heads.
Rain began to fall and Dave returned to the bank for a gear swap and reboot.  As i crawled upstream i caught sight of a Gilt Darter stiff and panting rapidly in the shallow flow.  Though alive he would only move a bit when i nudged him.  We spent time observing the Gilt using the opportunity for photography and careful detail.  I surmised that he had been caught up in a brawl as his left side was marred with an odd pattern and both left fins were damaged.  Gilt Darters can change their patterns rapidly and in great contrast but this non symmetrical blotch, as opposed to his other side, is odd.  I headed upstream in hopes of finding another sparring male but came across a Snail Darter and was easily distracted.  They are always a treat to see with their iridescent green sheen and distinct saddles.  I continued on upstream hoping another breeding Gilt male would be, but none to be found.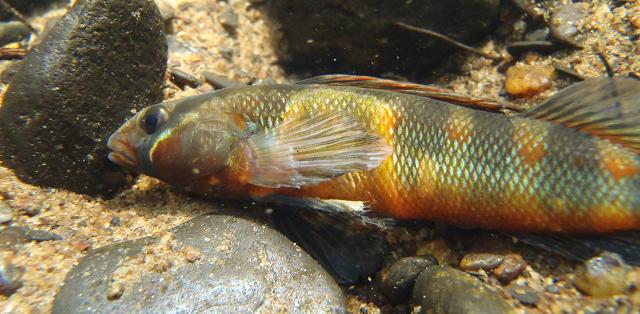 After the Brawl.  Note the odd blotch pattern and damaged fins.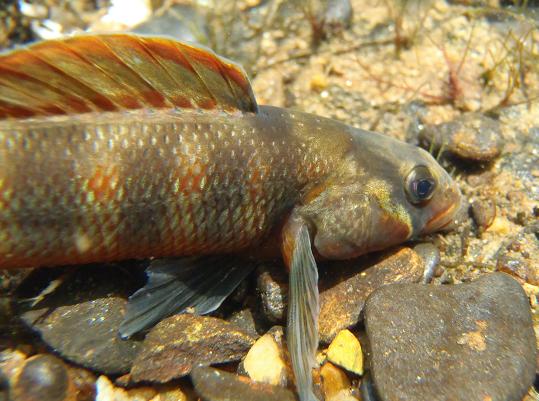 Nosed in and panting rapidly, hoping for recovery?  Fought to exhaustion?

Snail Darter running the shallow flows.
With Dave heading upstream i took my time pulling myself along the shallows and watching for various encounters.  The sun came out and the water seemed to flow clearer motivating me forward.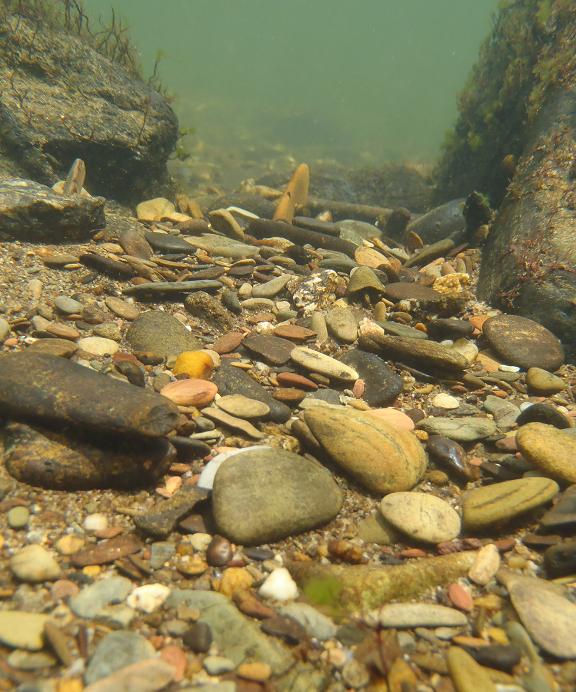 Pulling me forward, an enchanting view.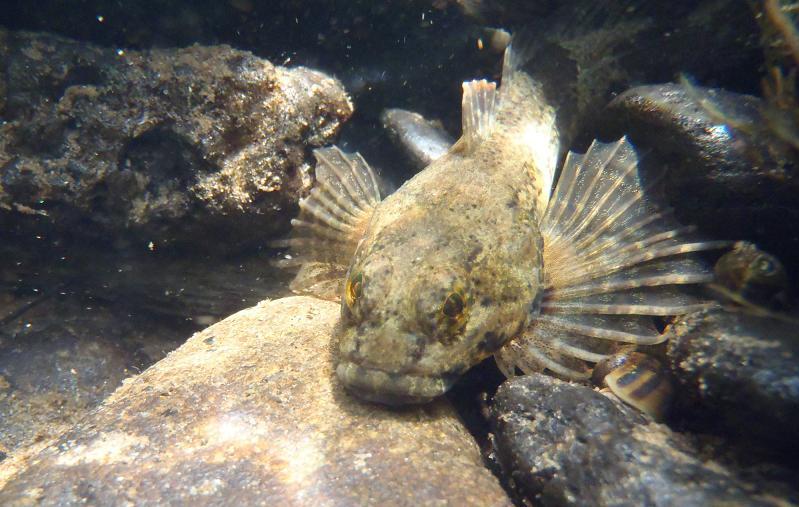 A Sculpin in ambush mode.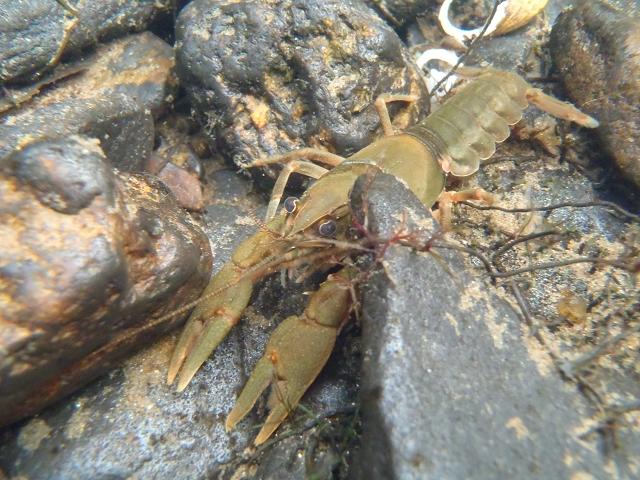 Nervous Crayfish, they rarely like being exposed with all the predators above.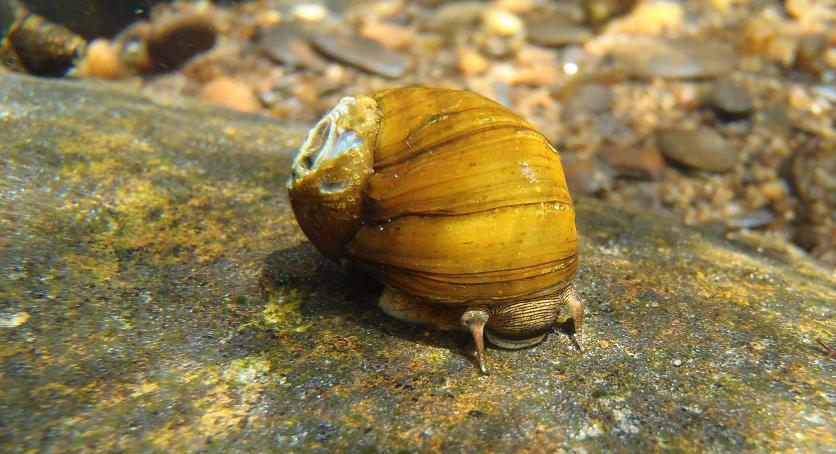 River Snail grazing slow in the microscopic world.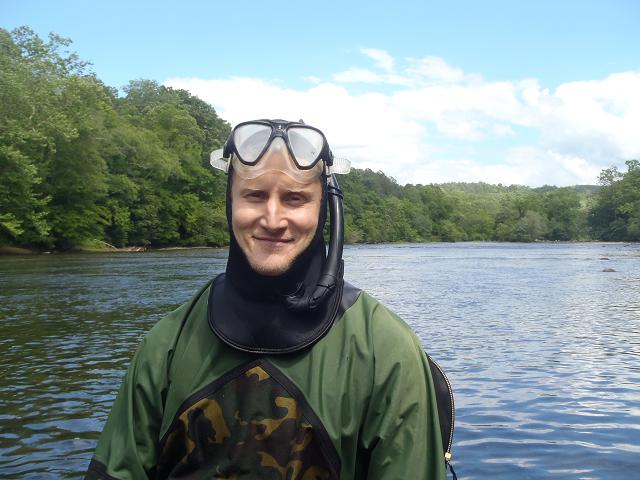 Dave after the rain and ready to head upstream.
After a quick lunch break we waded to the island beyond the picnic tables, first checking if the Chub mound from a week ago was still active.  Not so, but another one was on the build but with no real Shiner activity above.  I crossed to the far side and worked a few pools and runs finding the usual river inhabitants.  Greensides, Warpaints, Bandeds, Redhorse, a school of Yellow Perch.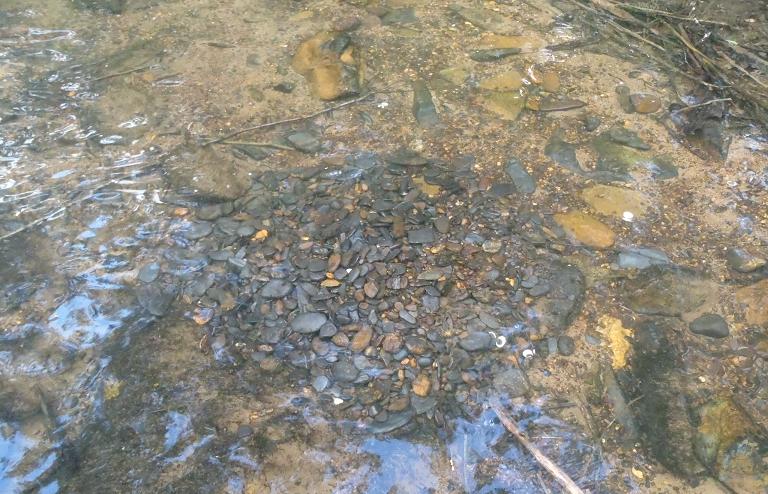 The old Chub mound from above.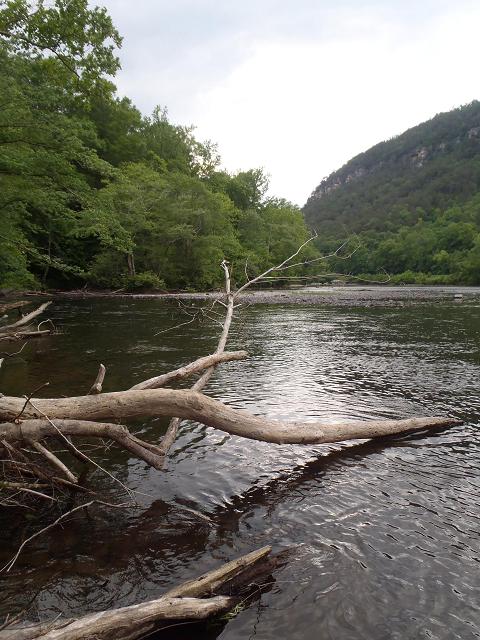 My day's ending view.  Dave and i had agreed to meet back at our vehicles about 6 as i had to meet Lance and his lady friend at my brother's house in Knoxville.  Nearing 7 i left Dave in the river, somewhere beyond my view, and headed north.  I figured he was on to something good.
Hellbender
While i was in Knoxville catching up with family and friends, Dave was still in the river's dark flowing water waiting for the moon to rise.  He had found a Hellbender.  Motivated to recapture a similar image from year's before, this time he wanted to use his new camera equipment.  With patience and foresight he positioned himself facing eastward and downstream of the Hellbender just as the moon rose above the horizon, with the beast between lens and moon and the river split between water and air he waited.  Using 2 strobes, one above, one below, he froze the Bender's details and continued the exposure for 30 seconds capturing the moon and gnarly eel cloud.  That is what it takes to get stunning photographs!