My daughter and I made a trip over to the Eastern Shore of Maryland to sample some of the brackish public access points yesterday.  We checked out 5 spots, but only three of them had decent access to collect.  We were restricted to keeping dry because she just had a surgical procedure recently that precluded her from making contact with Chesapeake Bay water.   However, the extensions for my Perfect Dipnet arrived on Friday (thanks Mark!), just in time for our first trip, making it much easier to collect from the docks than my previous trip, where I had to get on my knees on the dock to reach the substrate.  
We were hoping to check out a few more spots, but returning beach traffic limited us.  So, we didn't quite find the oyster habitat that we were looking for, however, we managed to find spots that had a lot of shucked or dead razor clam shells and a few oyster and clam shells mixed in.  This resulted in us finding our targeted species, however, all of them were juveniles. 
Lots of razor clams.  Hiding in there is a small skilletfish (see if you can find it).  We caught a bunch of them yesterday, but the biggest one was only about an inch long at the most:
We netted a bunch of grass shrimp and rock crabs of some sort that were tiny like this one but up to about the size of a quarter.  My daughter enjoyed letting the crawl around in her hand:
Grass shrimp:
We caught a few blue crabs, but no keepers (we weren't planning to keep any of them anyway).  If you look closely, you can see another skilletfish and a silverside.
The crabs claws are pointed right at them:
We caught a bunch of silversides too: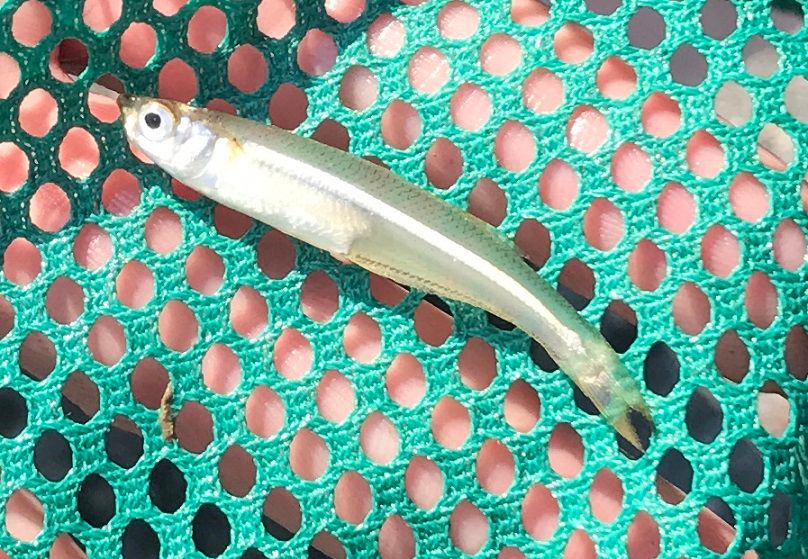 The next most common fish that we caught were striped killifish: