As I posted in the introductions area, I am a native of California and well acquainted with the relatively unexciting native fishes of that state. By 'unexciting' I mean that that region is one of the least, if not the least, diverse fish provinces in North America. In all the years of sampling I did with the DFG/CCC in Northern California, I can only think of twelve species we ever collected. And the cyprinids out west are pretty much all plain-Janes.
Fast forward to moving to South Carolina. Our new house sits on the bank of a tiny tributary to Brushy Creek. Having a creek in the backyard was a major plus for me. I was pleased to see there were fish in it. I finally got around to getting a copy of Rohde et al from the library and a cheap minnow trap from Walmart. Baited it with a few pieces of dog kibble and set it for two hours in a lateral scour pool with some rootwad cover and a sandy bottom. I caught 44 fish, which near as I can tell were of only two species, creek chubs (39) and greenhead shiners (5). The greenhead shiner ID is based in large part on the collection site maps in the book. I have attached a picture taken with my extremely high-tech fish photography set-up (glass mixing bowl). The fish is very attractive, even though its colors are washed out from the stress of handling. Fresh out of the stream its colors were considerably more vibrant.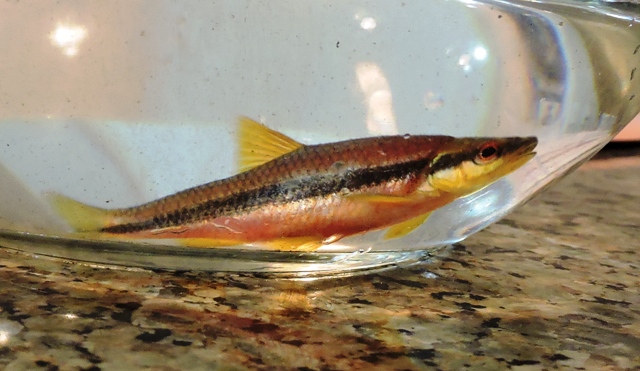 I have also observed at least one small species of centrarchid in the creek. It has orange fin margins, which coupled with the small size makes me lean towards them being green sunfish, but I can't be positive on that one. Incidentally, we used to catch the odd green sunfish here and there in our California samples. Non-natives, obviously.
There are some riffle/run stretches along my property line, and I wonder if I might find different species within those reaches, or is three species about all one can hope for in such a small stream? Brushy Creek itself is just a few minutes walk away and I am tempted to do a little hook-and-line sampling there.
Thanks for reading!
Chris
Edited by ccoyle, 19 June 2017 - 07:10 PM.