Chesapeake Bay, Calvert and Saint Mary's Counties.  Specific Gravity was 1.015 at both locations.
My daughter and I headed South to sample a couple areas including Point Lookout.  In addition, I tried my hand at microfishing.  I fished a 7' long BPS ultralight rod using light Nanofil line, connecting 1/2 pound ice fishing line to a swivel, along with a split shot and a tiny Marmooska ice fishing jig.  I used chartruese clam flavored FishBites for bait.  The challenge was hooking fish before they could steal the bait.  Either my chunks of bait were too big or my hook was too small, because I caught maybe ten fish out of 10,243 bites (well, a lot of bites).  I found that many that weren't hooked could be lifted out of the water because they'd ingest a chuck of fish bites and wouldn't let go, but weren't hooked.  After discovering that, we caught a few fish by just dropping the dip net under them and they'd let go, and fall into the dip net!  Anyway, we had fun.  I guess I need to find a way to slice up the FishBites so that they'd thinner, but still have enough mesh to hold the bait on the hook.
Killifish were masters at stealing bait.  Gobies would hit once, but then lose interest.  Same with blennies.  I had one nice size striped blenny hooked but flopped off the hook almost as fast as he was on. That would have been my prize catch of the day.  So, hook and line fish included:
Unidentified killifish.  Initially, I thought it was a mummichog, but now after looking at the pic, I'm not so sure.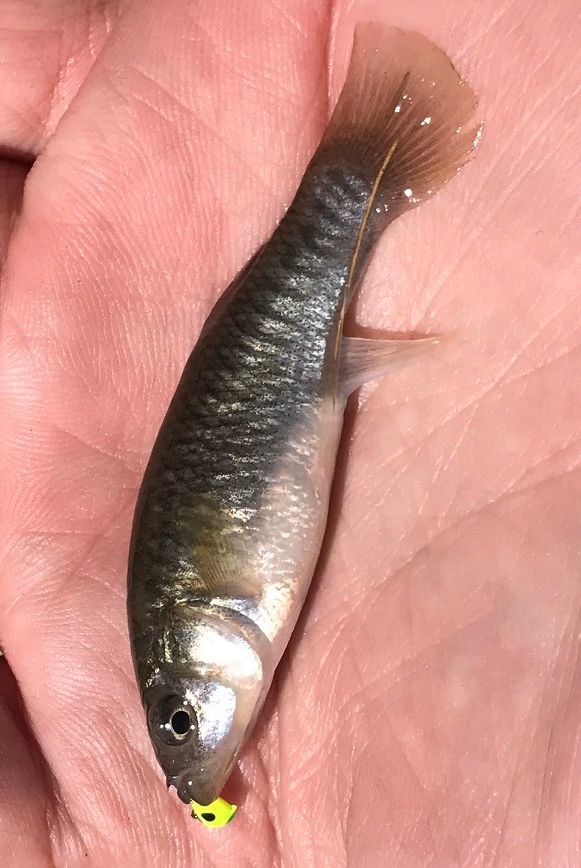 Same fish: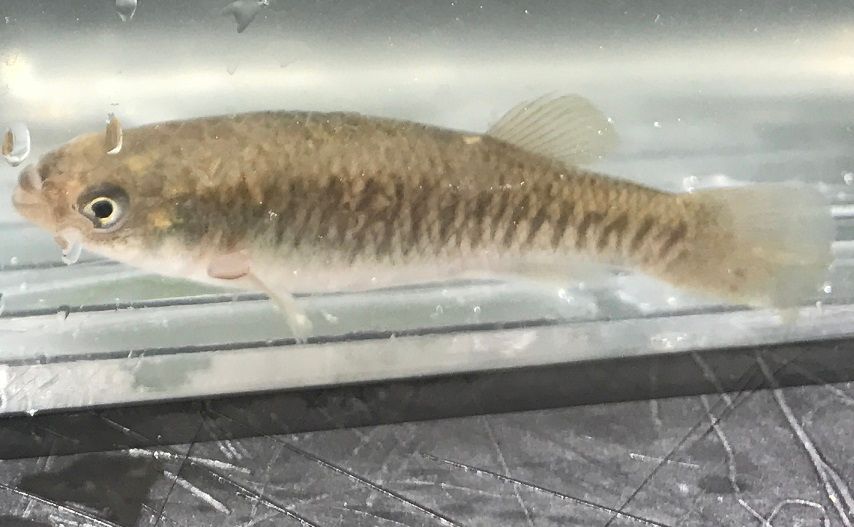 Spot (Leiostomus xanthurus)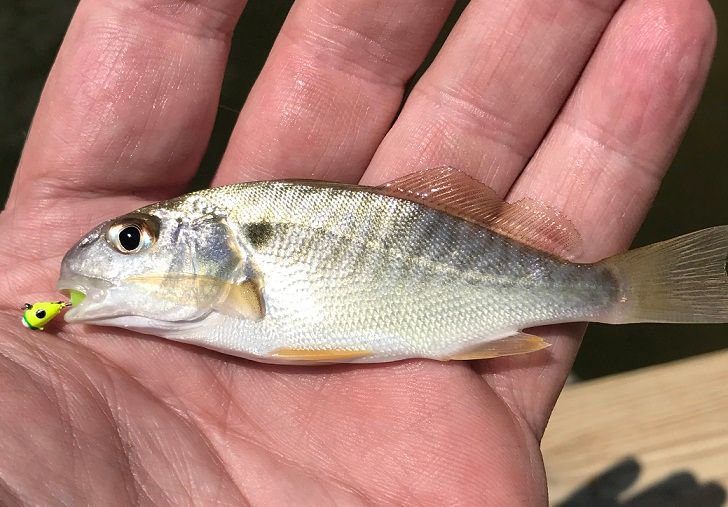 Same fish: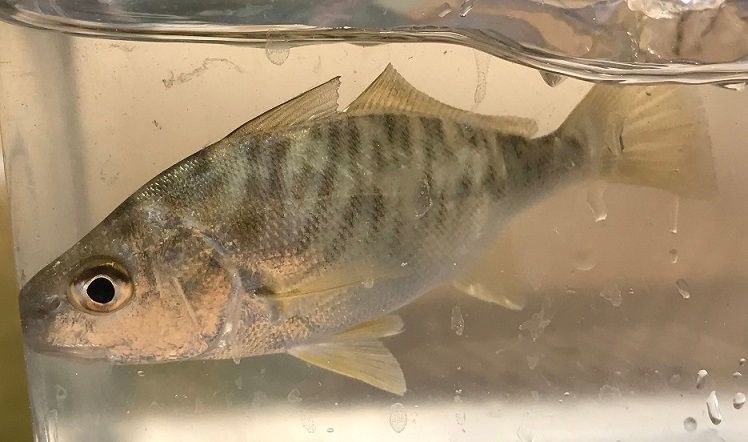 My daughter's first "microfishing" fish, another spot: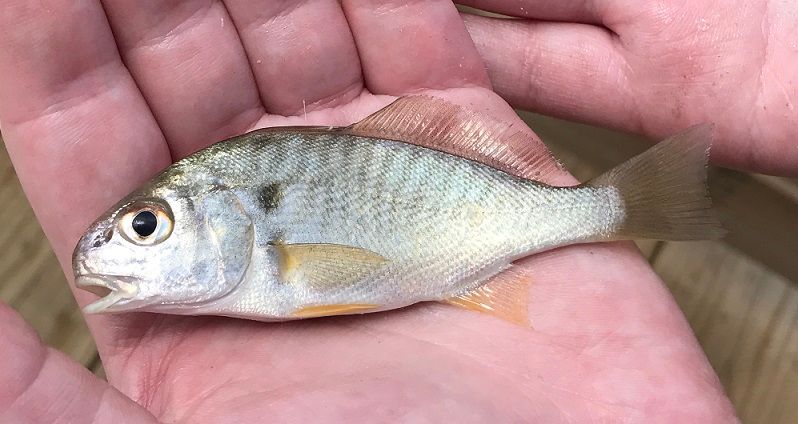 A small summer flounder (Paralichthys dentatus):
And a definite mummichog (Fundulus heteroclitus):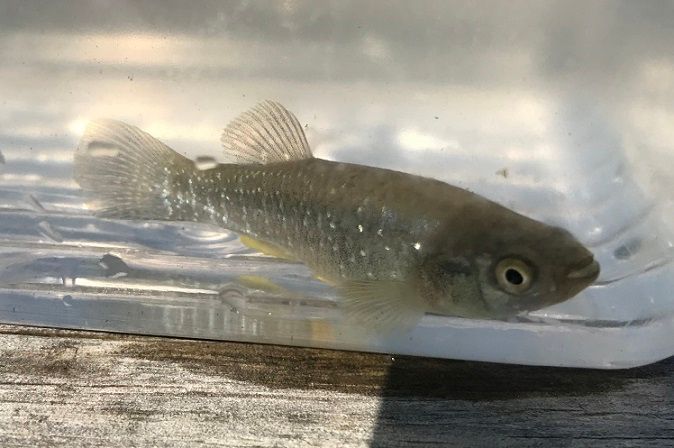 Dip Netting:
We had a pretty fun time with the dip net.  We caught 5 naked gobies (Gobiosoma bosc), rainwater killifish (Lucania parva), and eastern mosquitofish (Gambusia holbrooki) that we didn't get pictures of.  However, we did catch some interesting fish that made it to the photo box:
I think that this pipefish might be a dusky pipefish (Syngnathus floridae), because of the very long snout, along with an American eel (Anguilla rostrata):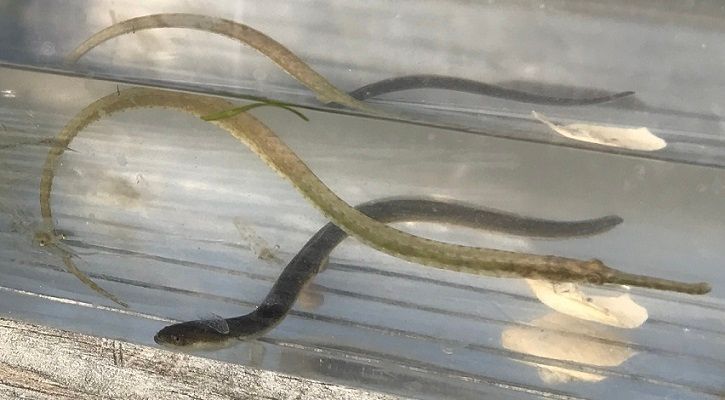 And another pipefish that I think is the northern pipefish (syngnathus fuscus):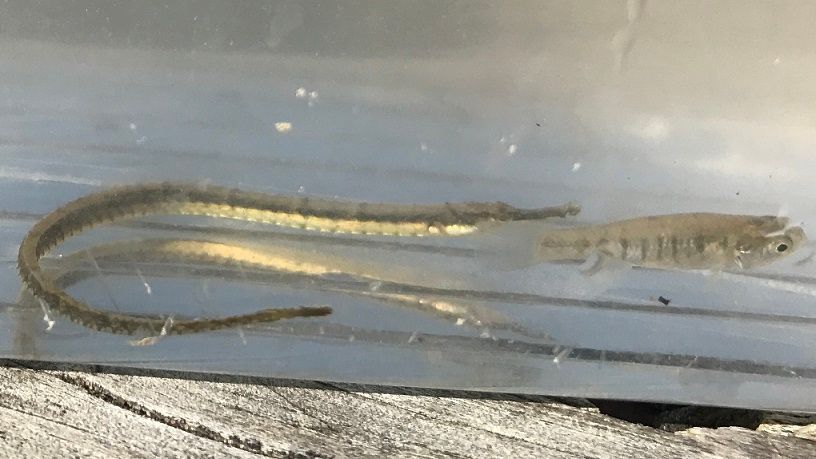 And a nice four spine stickleback (Apeltes quadracus):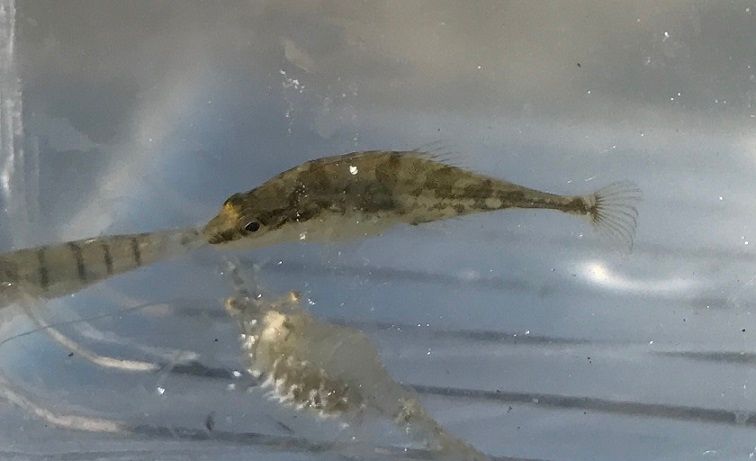 We had a great time.  Now, it will be tough to choose which method to try, microfishing or dip netting.  They're both productive and fun.  My only disappointment on the trip was losing that blenny and not catching any blennies.  We also didn't catch any clingfish, which surprised me.  There's always next time!
I'm confident with the second mummichog ID, spot, flounder and stickleback IDs, but not so sure of the rest.  I'd like to hear your thoughts.   Thanks!