My daughter and had plans to return to Point Lookout in Southern Maryland again on Saturday, but due to the threat of storms, and more importantly, her back was acting up, a two hour ride wasn't in the cards.  If you've read my previous report, we were quite happy with the variety of species, but we were in search of blennies and were skunked on those.  So, instead, we returned to the first place that she and I collected a few weeks ago where we caught our only blenny of the year, and as a bonus, it's an hour closer to home.
Another good thing about this spot is that it has the right habitat that you'd expect for Chasmodes bosquianus, the striped blenny, our target species.  It isn't really an oyster reef, but is a place where watermen apparently shuck their razor clams that they sell as bait and dump the shells, creating a hard bottom habitat, although the surrounding area is mud.  The spot within the spot seems to be a hard bottom created by years of clam shucking.  We also found some live oysters, but no cultches, and plenty of oyster half shells, so they probably shuck a few oysters here too.
Our spot within a spot: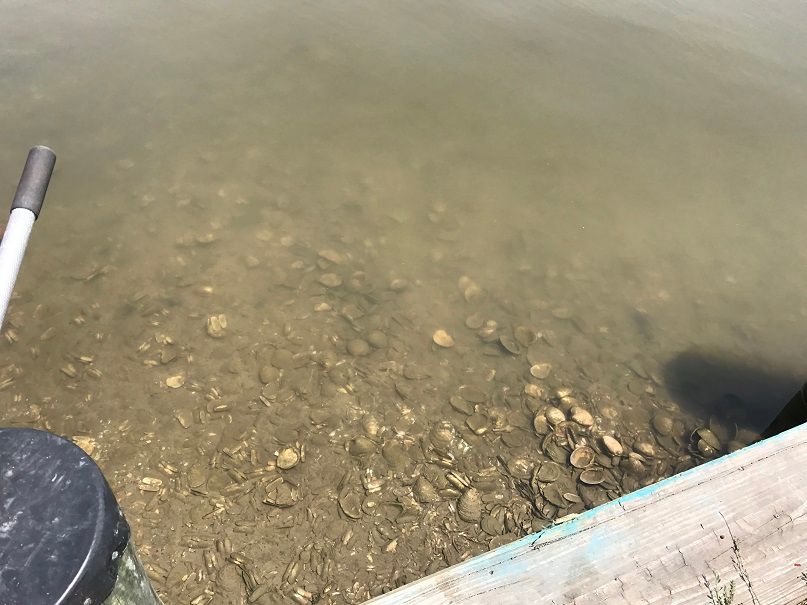 This first scoop, showing razor clams, oyster half shells, and our catch.  My daughter went through and checked each shell for the clingy skilletfish or hiding blenny: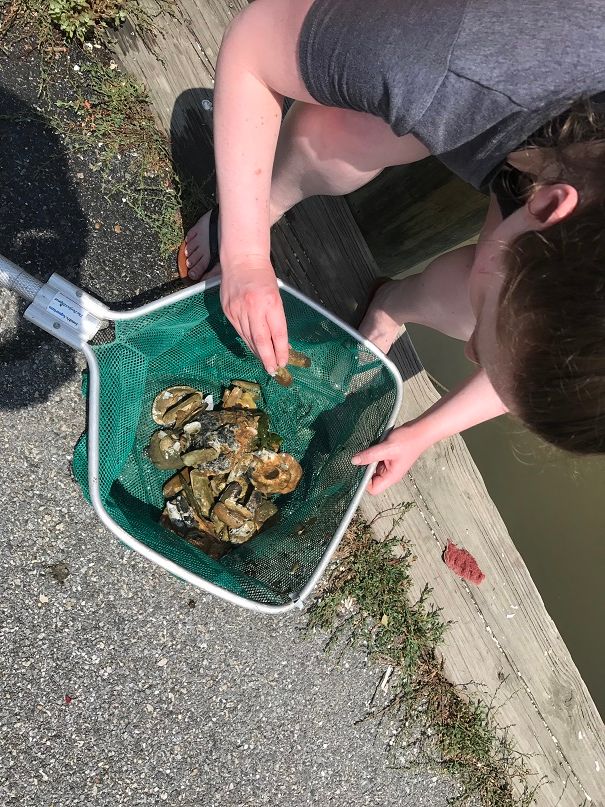 More importantly, we found blennies!  In fact, our first scoop with our trusty Perfect Dipnet landed this little feller!  A juvenile Chasmodes bosquianus, the striped blenny!  We kept him and another juvenile blenny for the tank, along with a couple skilletfish.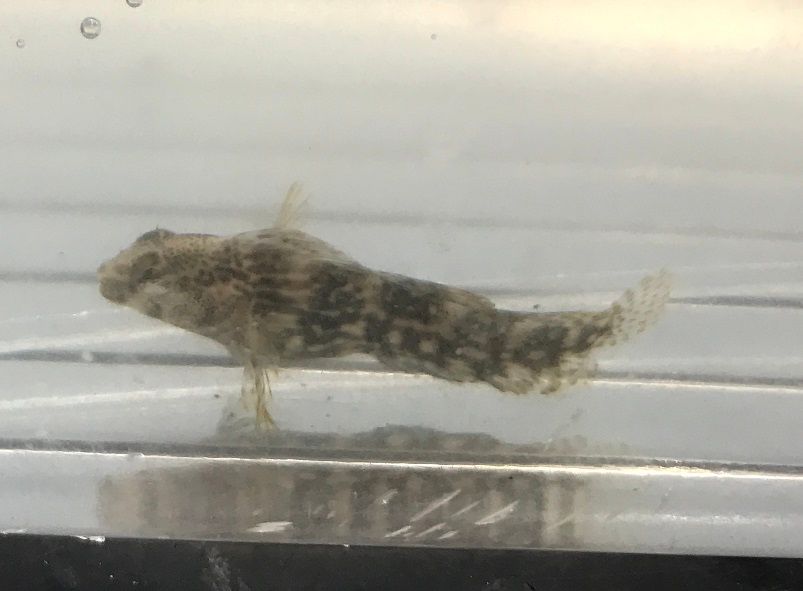 Our previous trip to this spot yielded plenty of juvenile skilletfish, naked gobies and the one blenny.  We didn't find any adults or sub-adults, but this time we did, except for the gobies.  Most of them were juveniles.  Here is a sub-adult blenny along with a skilletfish.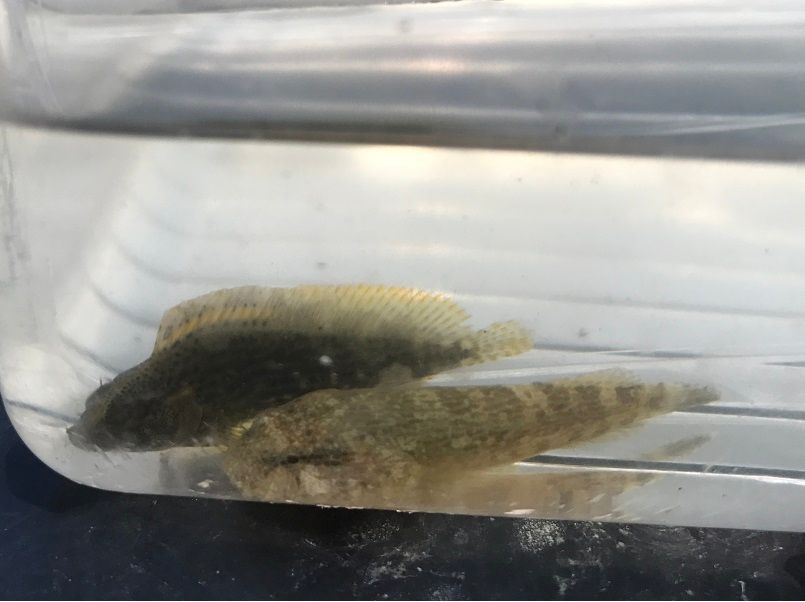 Here is another blenny, this one with nice orange on the back of the dorsal.  I don't think it's an adult male because it lacks the bright blue spot on the front of the dorsal fin that shows up on the male when breeding.  Adult females look the same as the juveniles, pretty much.  But, I think it is a young male.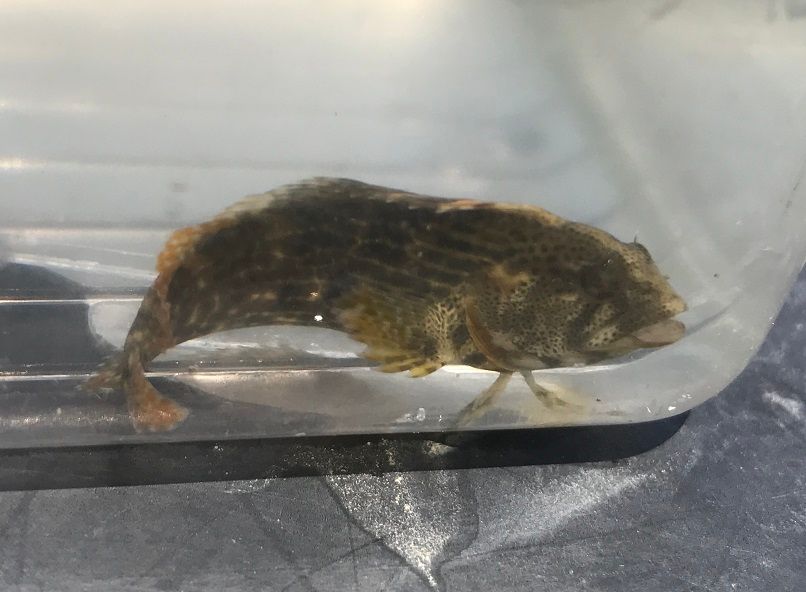 My daughter also netted some jumbo mummichogs.  Here's a pic of one: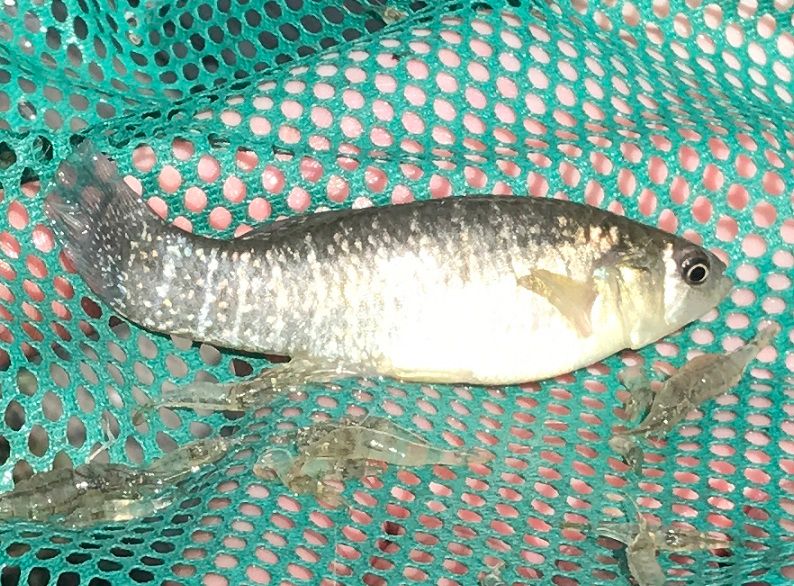 Anyway, we had a wonderful time before strong thunderstorms kicked us out.  We didn't have time to sample any other locations. 
We caught atlantic silversides, inland silversides, banded killifish, mummichogs, rainwater killifish, sheepshead minnows, naked gobies, skilletfish, and striped blennies.  It was our best day for blennies yet, finishing with 7 on the day!