Warning: Lame descriptions and poor photography.
Within the first eight days of September fall my birthday, my wife's birthday, and our anniversary. Usually we are pretty low-key about it and don't make a fuss. But this year we did things much differently; we took a week and a half and traveled to her home state of Michigan to be with the Great Lakes as well as take in a Bob Seger concert and the U of M Wolverines' home opener at the Big House. Of course, we put in a little fish and bird nerding along the way as well.
Luckily for you all, I didn't take many pictures and when I did I really struggled with my camera. But there are enough here to give you an idea.
We spent a few days in a mom and pop cottage right on the shore of Lake Huron. (On the Au Sable Twp side of the mouth of the Au Sable River, Iosco County) The beach was sandy with lots of small rocks to sort through and collect. Many were very interesting fossils, mostly corals, and we did get one tiny legit Petosky Stone. As for fish, when the lake was calm schools of small minnow-looking fishes cruised the surface right at the shore. A couple swipes of the dipnet turned up these guys: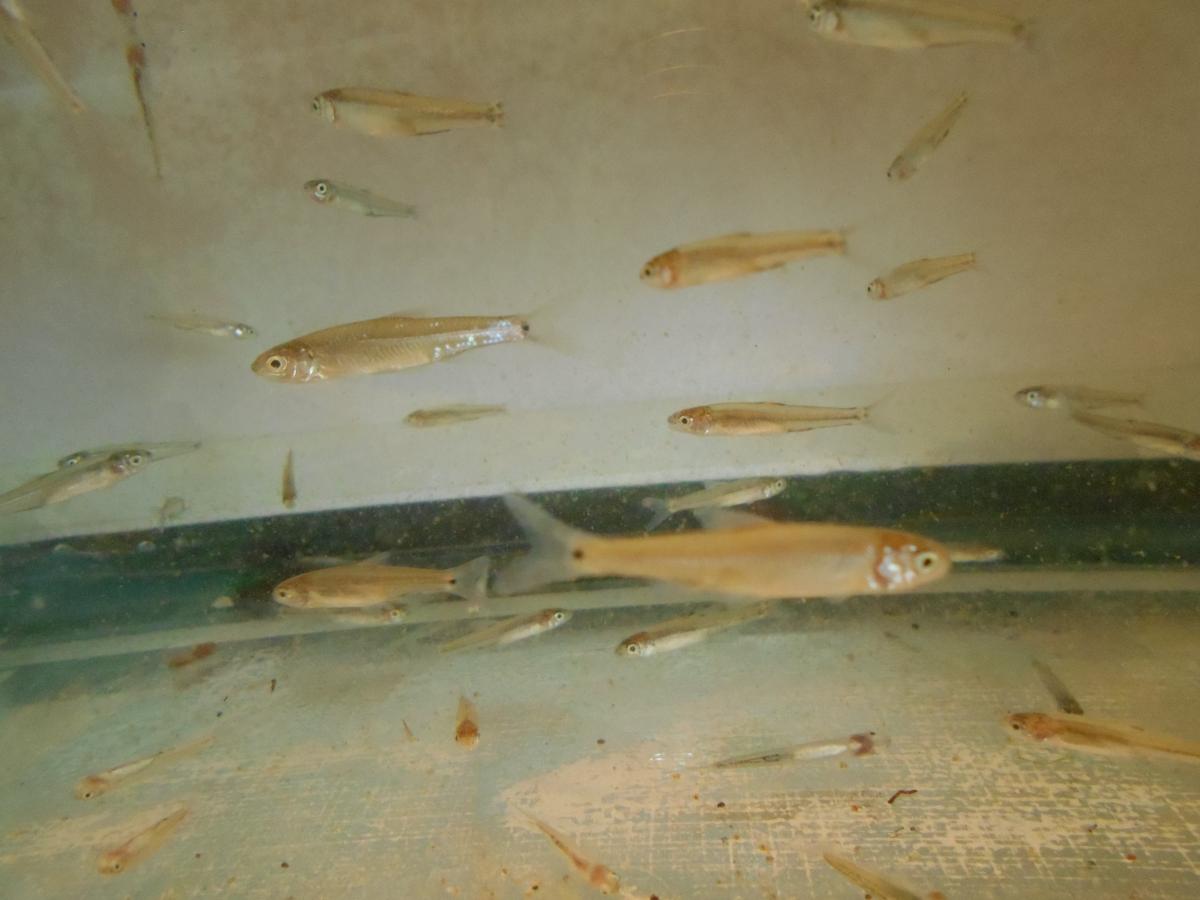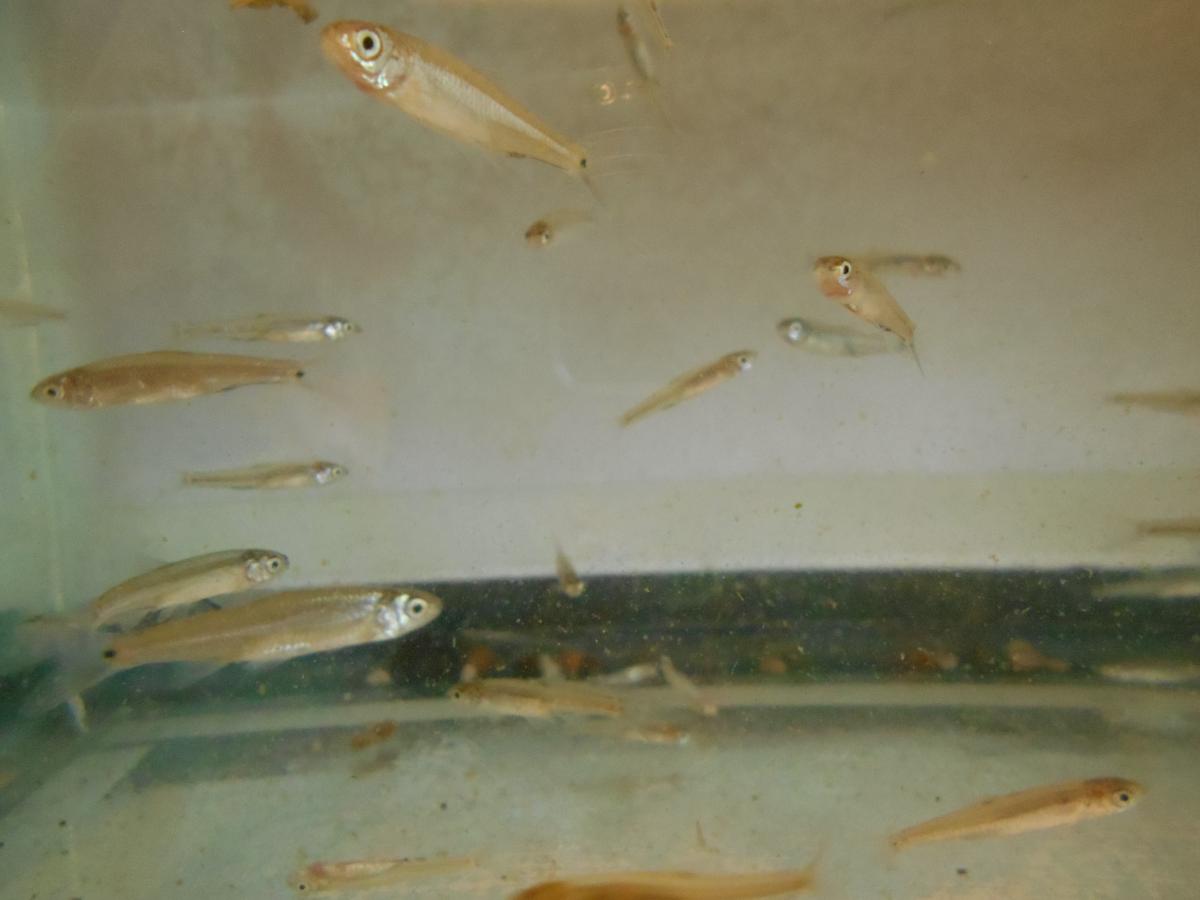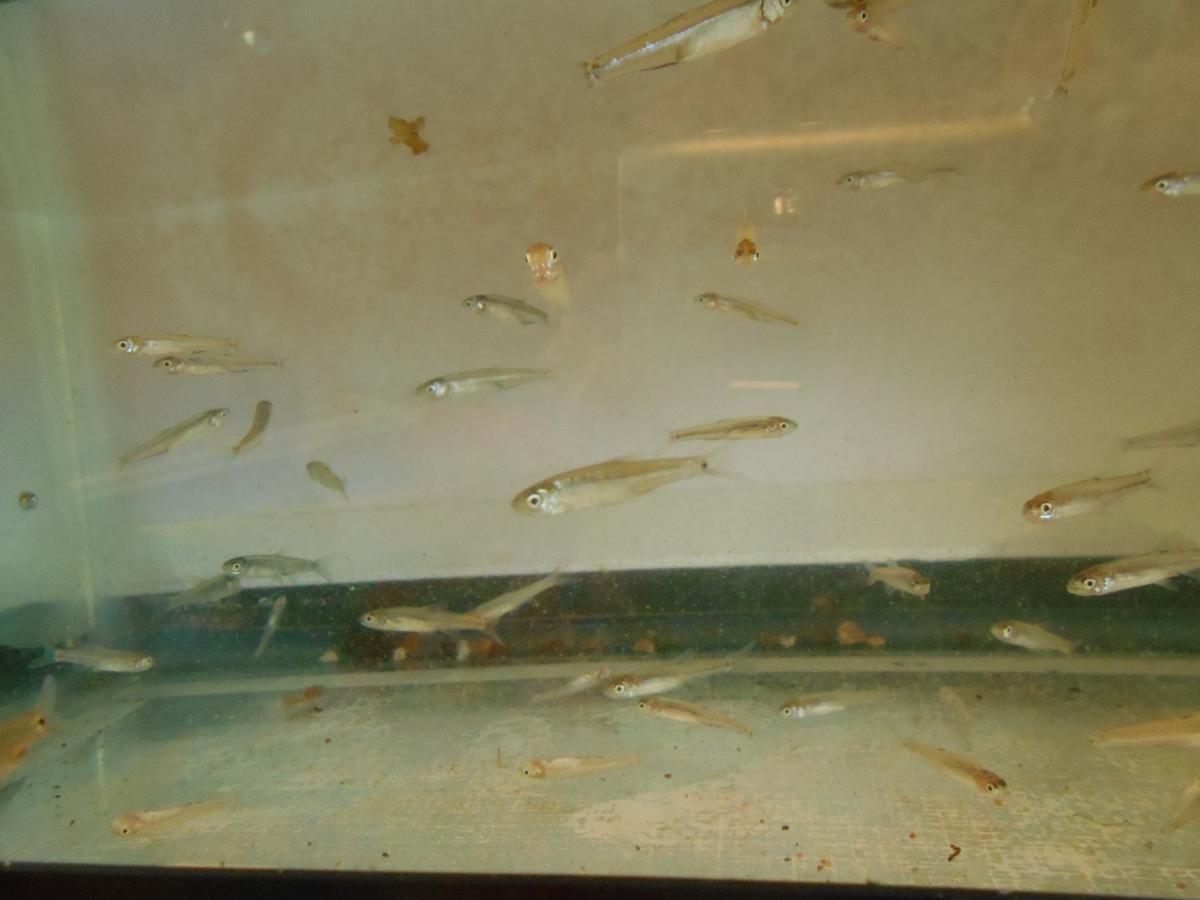 I'm thinking the above fish with square spots at the caudal base are Spottail Shiners (N. hudsonius)but they look so different from my South Carolina I just am not sure. What about the fish at the very top center of the third picture; that caudal marking and coloration under the anal fin is different on that one than on my "hudsonius". Any clue what that is? I know these are bad pics, but hopefully the gestalt of them will bring some ideas. These were small, small fish (most of 'em) and the light was tricky and yes, I suck as a photographer.
At the very tip of the Lower Peninsula, on the Lake Huron side of the Straits of Mackinac, I found this forensic treasure. I'm pretty sure it's a Freshwater Drum ((Aplondinotus grunniens). I'm not as stringent in my life-listing requirements as, say, a Ben Cantrell; actually I pretty much use the "vulture approach" so I'm looking to add this to my list. The shape of the caudal, the dorsal spines, and the formerly scaled cheek are my reasons for thinking drum. Here's the thing, though. I do not understand Page and Burr's range maps for some Great Lakes fishes. There seems to be an inconsistency in maps for fishes that occur both in the Great Lakes and inland-type waters. The map for Freshwater Drum does not indicate them to be in any Great Lake (though they are, right?), while the map for Mooneye clearly indicates that species in both the Great Lakes and inland waters. (Even if my id is wrong, this map thing still puzzles me.) Further, Hubbs and Lagler (and Smith in his 2004 revision of their work) do not have drum anywhere near the Straits). Lastly, Bailey, Latta, and Smith (also 2004)have drum in Lake Huron, but no closer than many miles away in Thunder Bay. They do have them a little closer, just outside the Straits in Lake Michigan, but none of these records have voucher specimens. The works Smith were involved in agree on the Huron local, but not at all in the Lake Michigan locale. Still, it is no stretch to imagine them on Mackinaw City shores.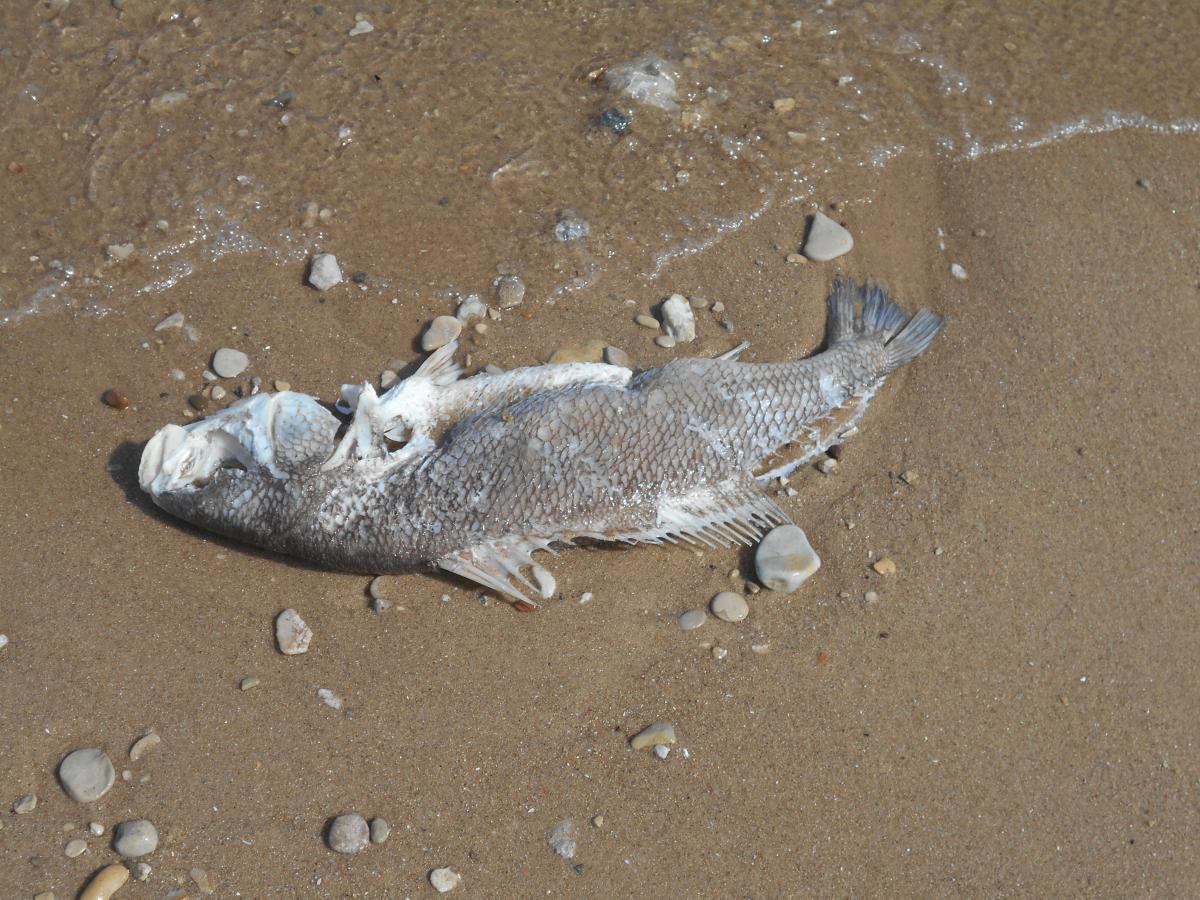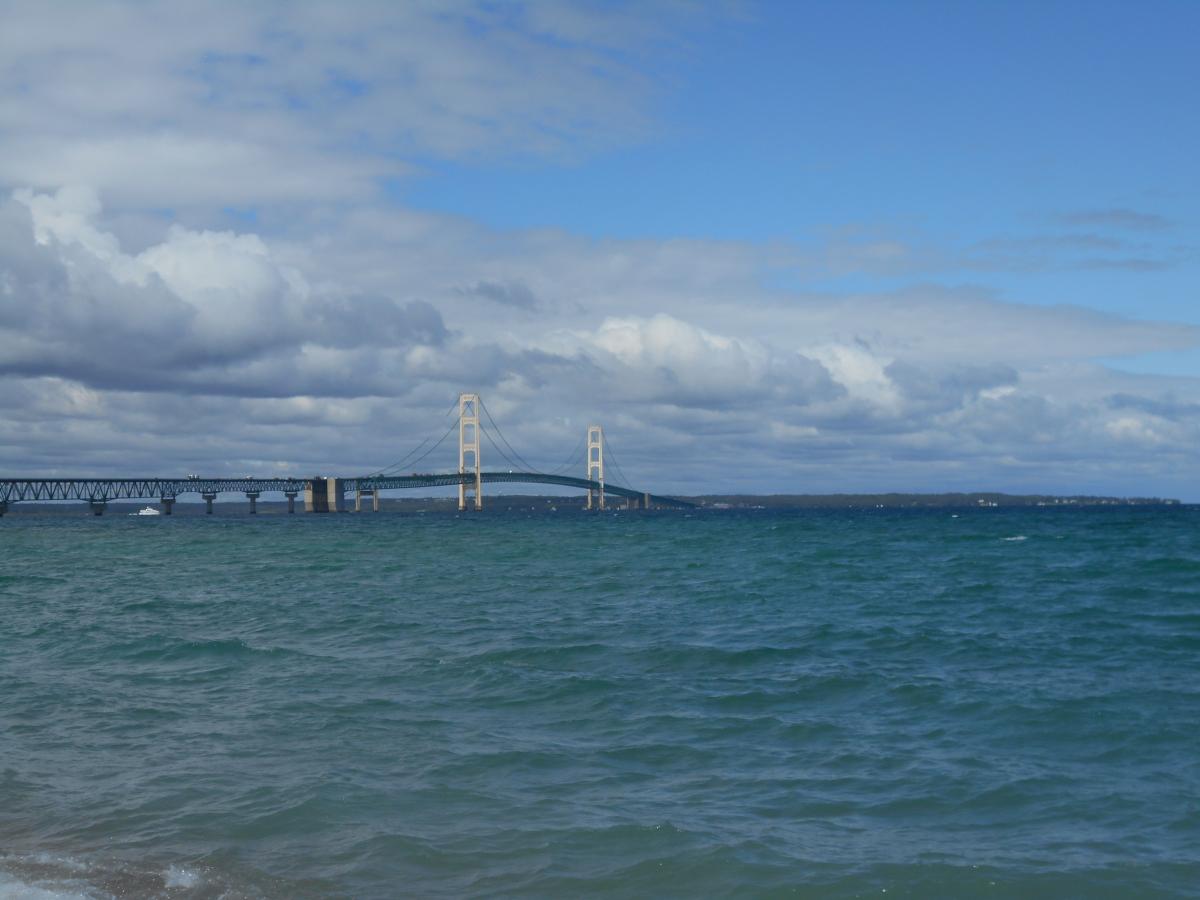 I find the corpse of the "drum" interesting. It looked to be pretty well eviscerated and the eyes eaten, but no real damage to flesh. I assume wave action removed the scales; no human or critter would scale the whole fish to include the cheeks, gut it, and then toss it out without removing the flesh. Any other ideas? As for the habitat shot, it gives you an idea of the waters from which this fish washed up. This is one of the tiniest parts of the Great Lakes! The Mighty Mac stretches across the Straits to the Michigan Upper Peninsula; to the left is the Lake Michigan side, to the right of Mighty Mac is Lake Huron. The blues and greens of the upper three Great Lakes are amazing; colors to rival any tropical sea,only with a distinctly northern feel and as the bumper sticker says, "Unsalted and Shark Free!" I have several pics that actually do a good job illustrating a few of the myriad colors of Lake Huron, but they all feature LeDean (aka "wife") who would kill me if I posted any of them.

Returning to the Straits after a trip up to Lake Superior at Whitefish Point, we stopped on the Lake Michigan side of the Upper Peninsula to watch the bridge light up. Whilst we waited I got a chance to dipnet in a quiet area off the Straits. Found several minnnows I believe to be Sand Shiners (Notropis stramineus), and unfortunately a Round Goby, too.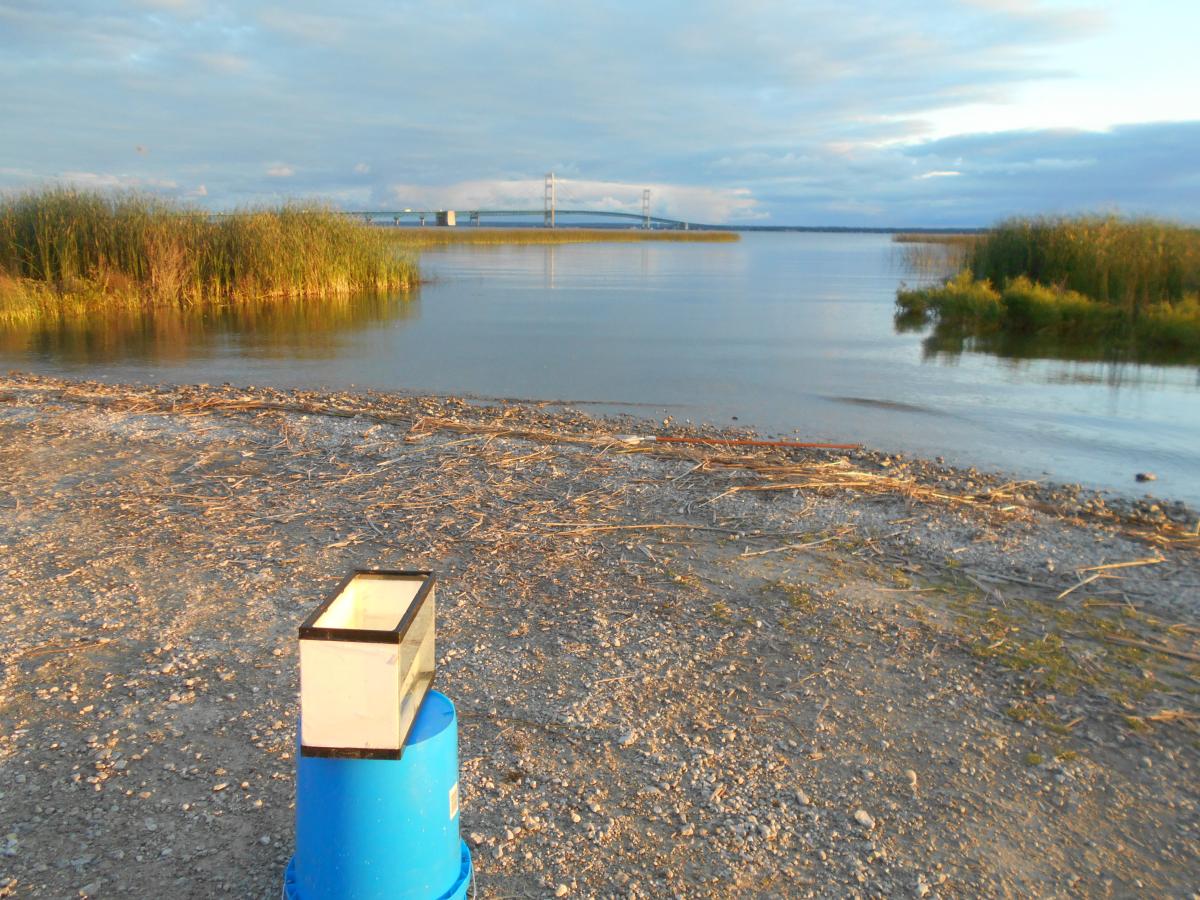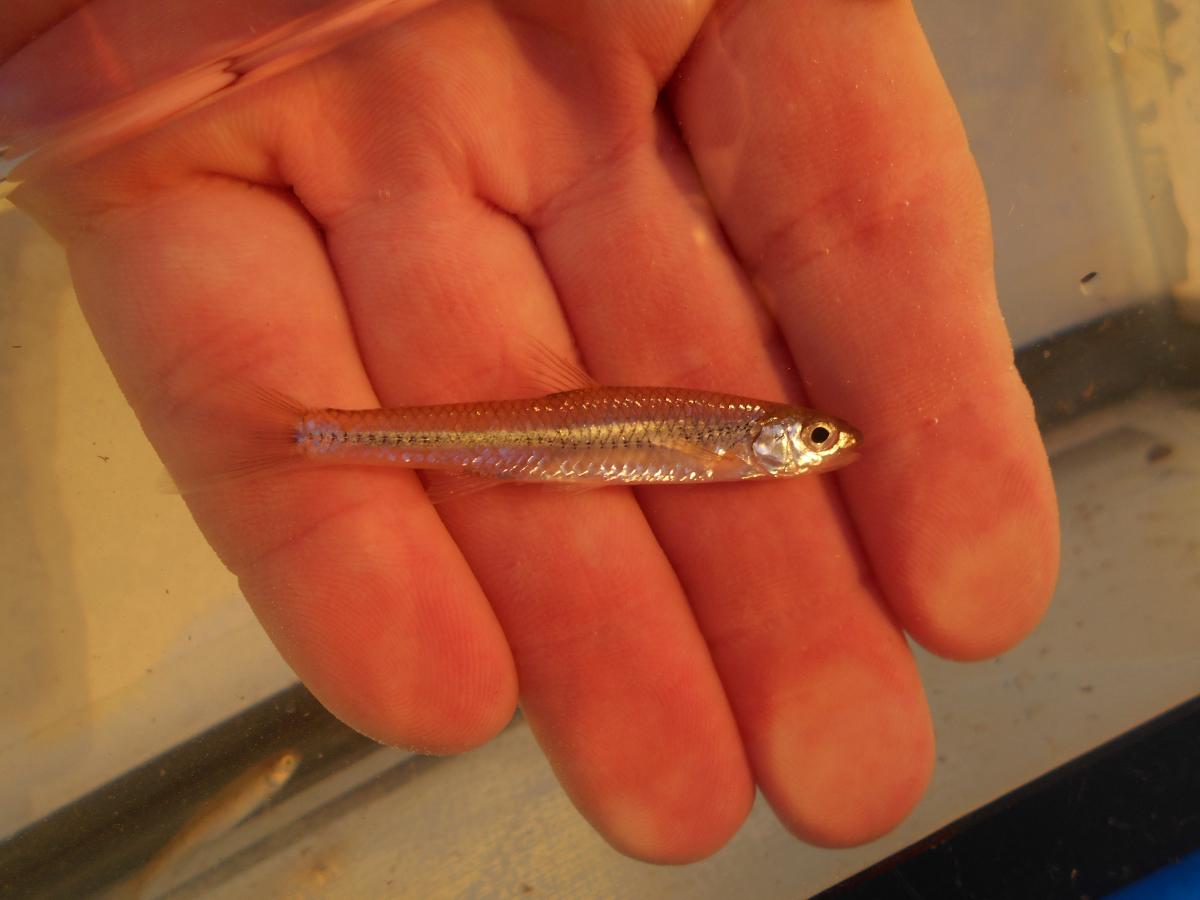 The next stop for any fishes was at Arenac County's Whitney Drain, aka the new mouth of the East Branch of the Au Gres River. Saw a large sucker-type fish riding down the respectable current; broadside to said current and chillin'. It was obviously in no distress. I'm guessing it to have been a Catostomus catostomus but maybe a C. commersonii. I remember it well enough that I am sure with a little more vetting I can accurately id it. I mostly mention it because I found its riding the current interesting and humorous. Unfortunately, the only other fins I turned up belonged to these guys...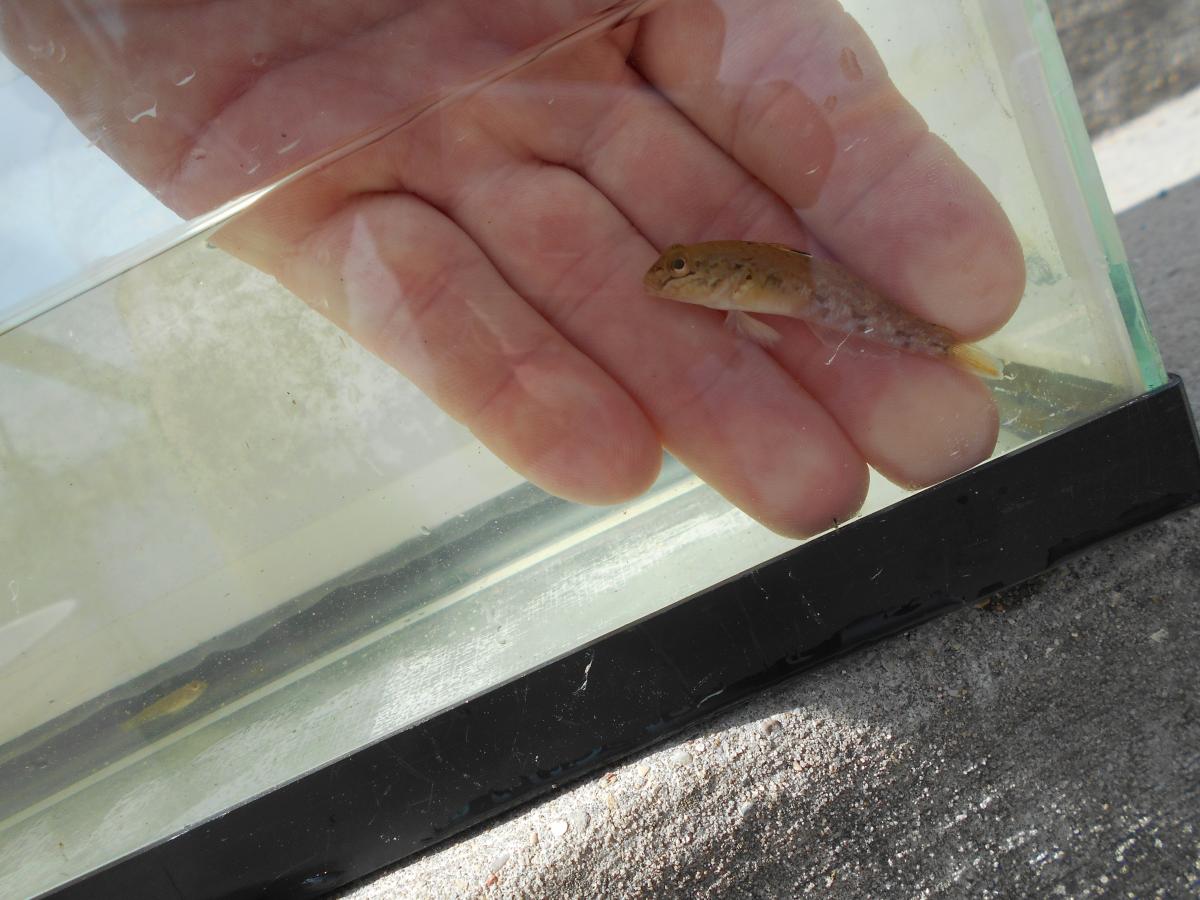 It's too bad Round Gobies are such menaces to our native fishes. They're actually not bad looking and fairly interesting to observe.
The Bob Seger show we caught was in Saginaw. Our hotel was just off Tittabawassee Rd, and darned if it didn't have a ditch running next to it. When I saw an egret fly up out of the deep ditch, I grabbed the nets and scrambled down the steep, 7' or so banks. The thing was wall to wall fishes. Nobody new turned up for me, but it was still a fun diversion the morning after the concert. You almost couldn't pull up a net without Creek Chubs or Brook Sticklebacks. One funky-lookin' Green Sunfish made an appearance, too.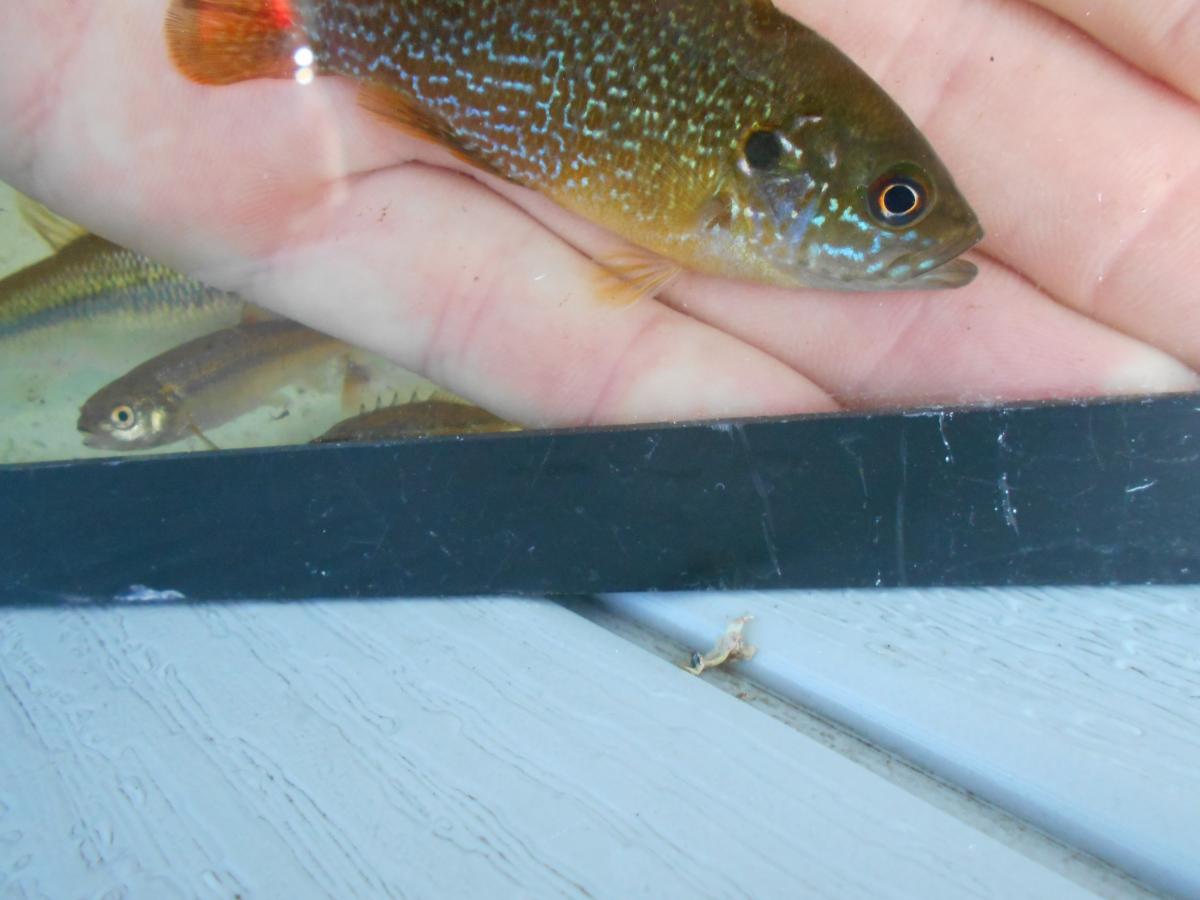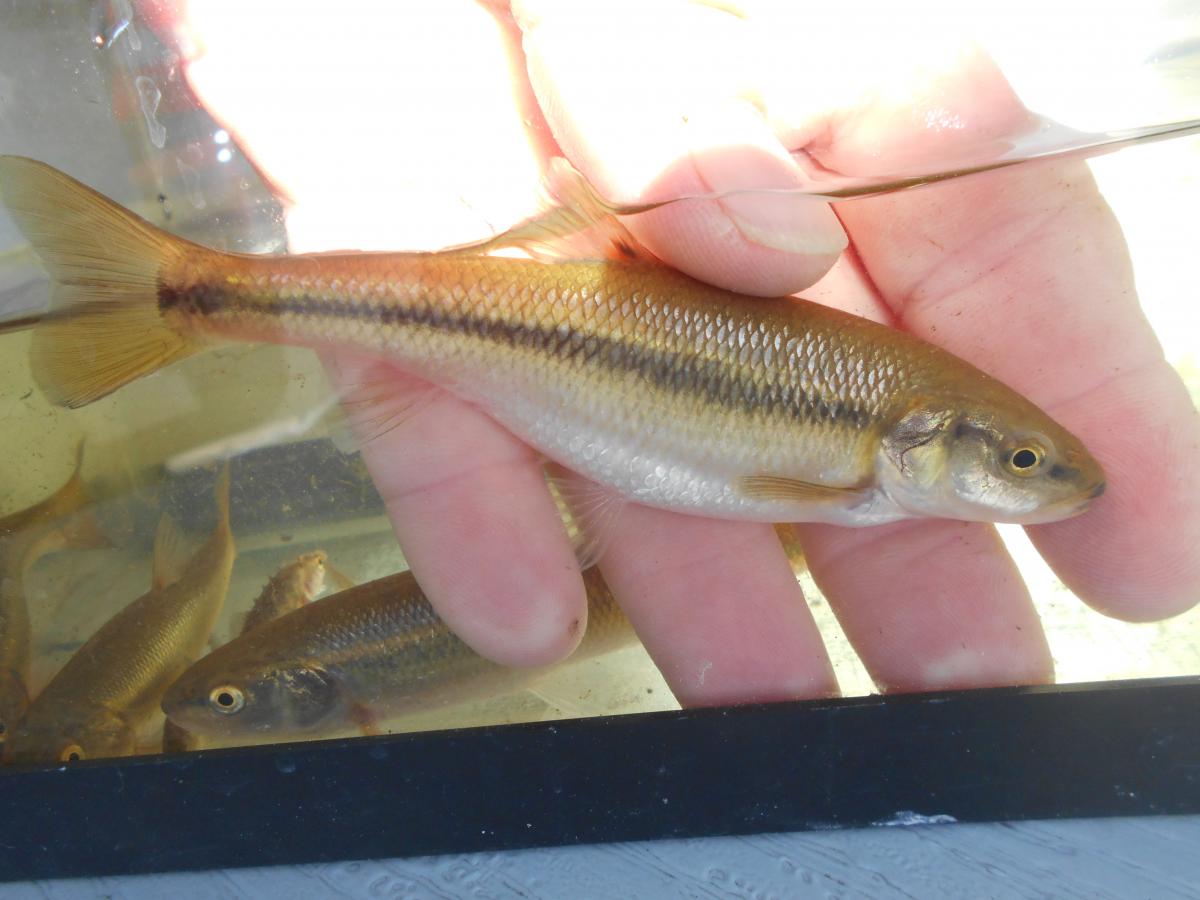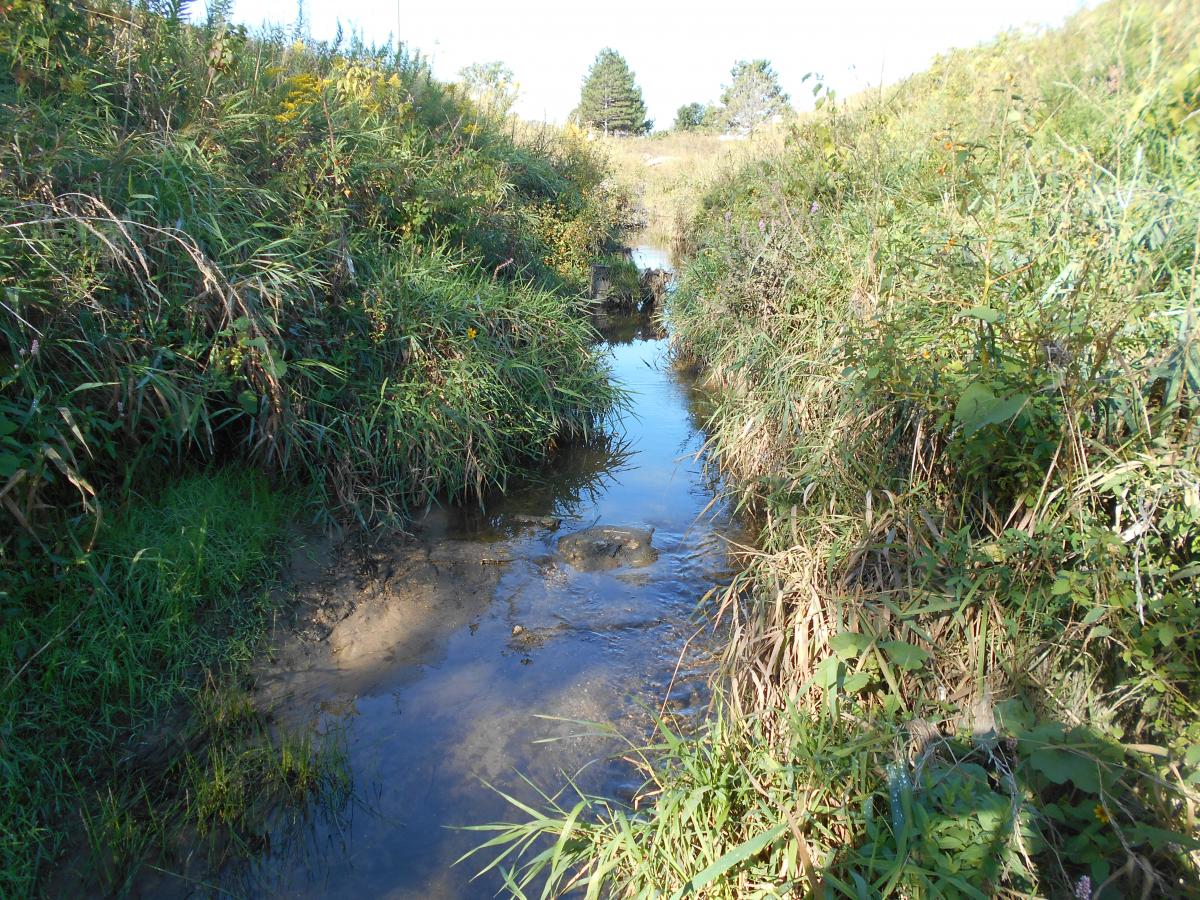 It's hard to believe that above this ditch to one side is a growing suburban retail and hotel district while to the other is a large cornfield.
I know I promised Kentucky fishes, too, in the title, but it's noon on a September Saturday. I'm already missing kick off! So I'm cutting this "short", and will do the Blaylock section of the write-up later. Yes, Mr. B did put me in a fishy spot on our return trip to SC. Unfortunately, we couldn't actually meet. More later.
For now I leave you with this post as it is. I spent a good chunk of my youth near, or actually on the shores of Lake Ontario. I really miss the big, fresh water and the north in general. It is obvious when we are in Michigan that my wife is home. We really do love SC, and are glad to be here and plan to be here for a couple more decades. But we sure are hopeful life finds a way to get us up to Michigan on a regular basis until then...