I went out today (11/6/17) to the Broad River in Columbia, SC to do some micro-fishing/species sampling. I ended up catching seven species: Redear Sunfish, Bluegill, Redbreast Sunfish, Eastern Mosquitofish, Longnose Gar, Cyprinella spp., and Sandbar Shiner. ID help would be appreciated, especially for third picture. 
I caught my smallest ever bluegill, while micro-fishing. In hind sight I wish I would've photographed it. 
This was my second ever mosquitofish, but first chance i've had to document one. I caught a bunch today, it's amazing that you can catch really little ones without hooking them, they just hold onto the bait for dear life.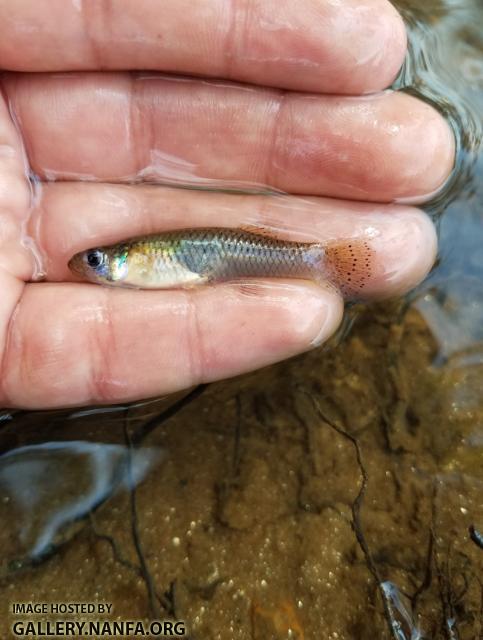 Suprise Longnose Gar for the day. Just a little one, but I saw him in a small side channel of the river. I dropped a worm in front of him and he sucked it up. Luckily I had a net close by, so I could land him by surprise. This was only my second ever Longnose Gar. 
I found several schools of small shiners which were very difficult to catch even with micro hooks. I finally landed a few. I snapped a picture even though I just assumed they were Spottail Shiners. I sent these pictures to a friend from a micro-fishing group and he said that this is definitely a Cyprinella because of the deep body and black splotch on the dorsal fin. We were thinking Greenfin Shiner solely because it is more common in this river, but it also looks like in could be a fieryblack. I wish it still had some spawning coloration. Let me know what you all think. 
I pulled my last fish of the day from some strong rapids. New species for me, I believe it's a Sandbar Shiner.