Looks like we will have the opportunity again this Spring.  Several of us had a wonderful time a couple years ago camping and seining and contributing with fishy fellowship.  The weather should be ideal in late April, Spring will be in the air and the water comfortable enough to snorkel while wearing a wet suit.
We compiled an article that was in a recent issue of American Currents.  I'm not sure which issue?
From a search on the internet i could not find a date for the 2018 Darter Festival.  It would be nice if they sync again.  In 2018 i would like to see fish pedaling bicycles.
Attached is Turkey Creek Charles' invite and flyer but we should work together as a NANFA team and coordinate our activities.
Post here if interested to coordinate.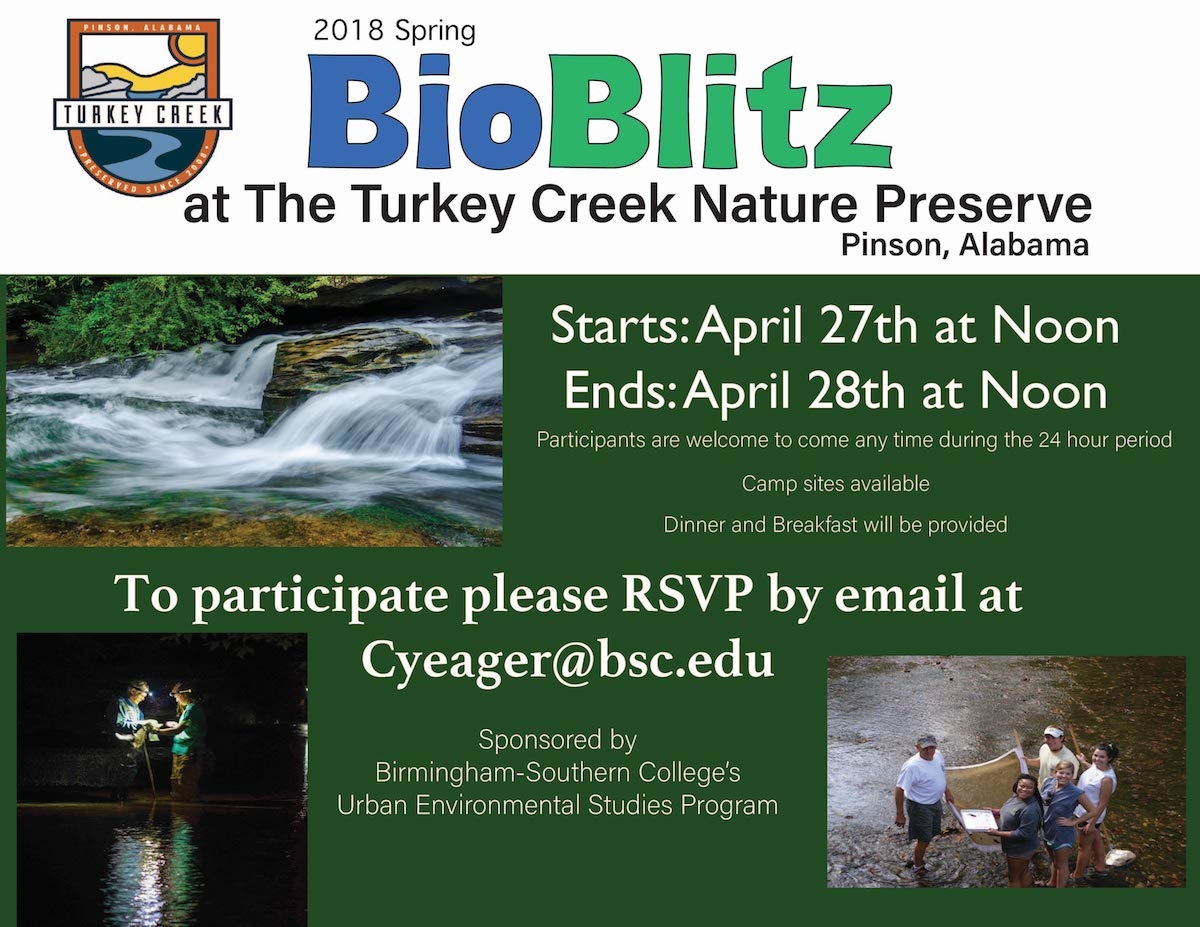 We are very excited to announce the return of the spring BioBlitz at the Turkey Creek Nature Preserve! This year's event will begin this year on April 27th at noon and continue through noon on April 28th. 
This will be the 6th time we have hosted a BioBlitz, and every time we discover many new things that have a huge impact on our understanding of our unique habitats. In fact, these events have lead to the documentation of four new protected species in the area, which has resulted in numerous research and restoration projects. So, not only is this a fun event, but it also has a direct impact on future stewardship efforts!
For those of you not familiar, a BioBlitz is a 24-hour event in which teams of volunteer scientists, families, students, teachers, and other community members work together to find and identify as many species of plants, animals, microbes, fungi, and other organisms as possible. This is a fun and exciting opportunity to come together as a community and share our knowledge and hopefully learn a little along the way.

Participants are welcome to come and stay as long as they would like during the 24-hour period. We will have space for camping, and will provide dinner on the night 27th and breakfast on the 28th.

If you are an educator, please encourage your students to take part in this! This is really a great opportunity to inspire passion for biological diversity, and we get so few chances to do it in such a relaxed setting.

Feel free to invite and share the attached flyer with anyone you think might be interested in attending. 

To help us coordinate this event, please RSVP by sending an email to Cyeager@bsc.edu and include:
-Participant name (if your an instructor and plan to bring students, an approximated headcount will suffice)
-Anticipated Arrival/Departure time(s)
-Will you be camping?
-Will you join us for Dinner (4/15) and/or Breakfast (4/16). Do you have any dietary concerns/restrictions we should be aware of?
-Are you interested in leading groups for a particular field of study?
-What field of study are you most interested in exploring for this event? 

This event is always very fluid, with people coming and going throughout the event, therefore there will not be a strict schedule of when groups will be going out for any particular outing. We will be sure to have someone to meet all participants at the front gate and let them know what is happening when they arrive. 

Here are few outings we would like to see included, if anyone is interested in leading one of these (or have something else they are interested in), please let us know!
-Aquatic Survey
-Plant Walk and Survey
-Herp Survey 
-Mothing (Friday Evening)
-Birding (Saturday Morning)
-Mosses/Lichens Survey (anytime)
-Insect Survey (anytime)
-Mist Netting for bats (Friday evening)
Closer to the date, I will send an email out to anyone who has RSVP's with more details concerning the schedule and logistics.
Please feel free to contact me if you have any questions.

Hope to see you there!