North Chickamauga Creek
July 27 & 28, 2019
I thought i would get a preview for this year and returned to the 2017 & 2018 Tennessee River Rescue site this weekend.  It has been hot and dry for most of the Summer, though we recently have had some cool nights, lowering the water temperature.  After about 3 hours each day i was shivering cold without my wetsuit.  Water level was low, cool and fairly clear being much of the creek's flow is spring fed.
I was in the creek about 2 months ago with Rob and gathered a few piles of trash.  They were still intact as no big rains have come through dispersing them.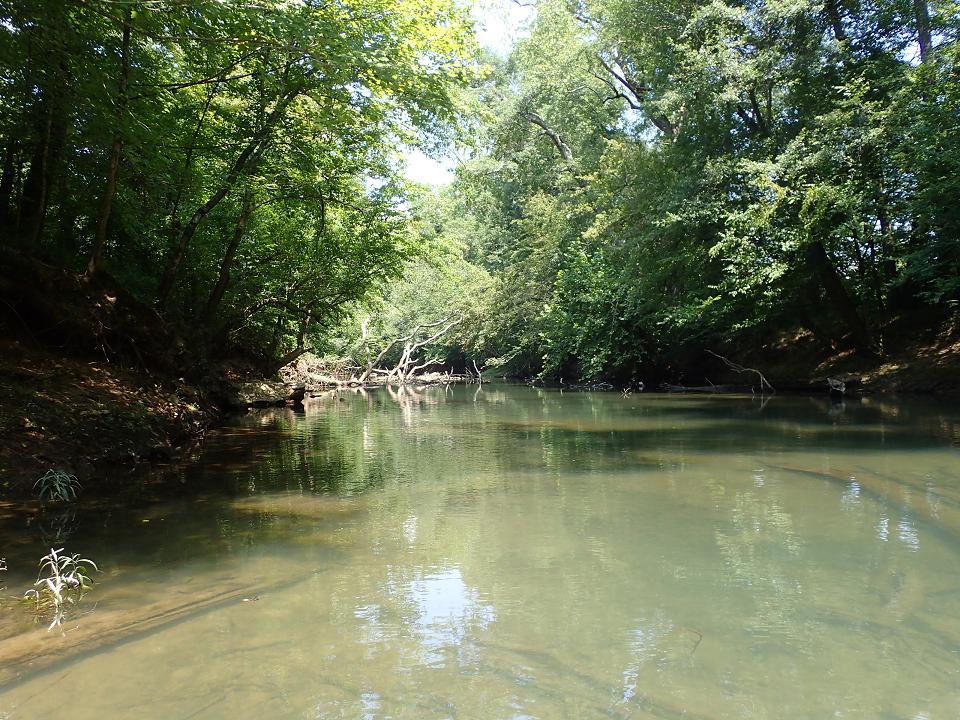 Getting in and looking downstream.  Several log snags are located between here and the bridge and old mill site about a 1/4 mile downstream.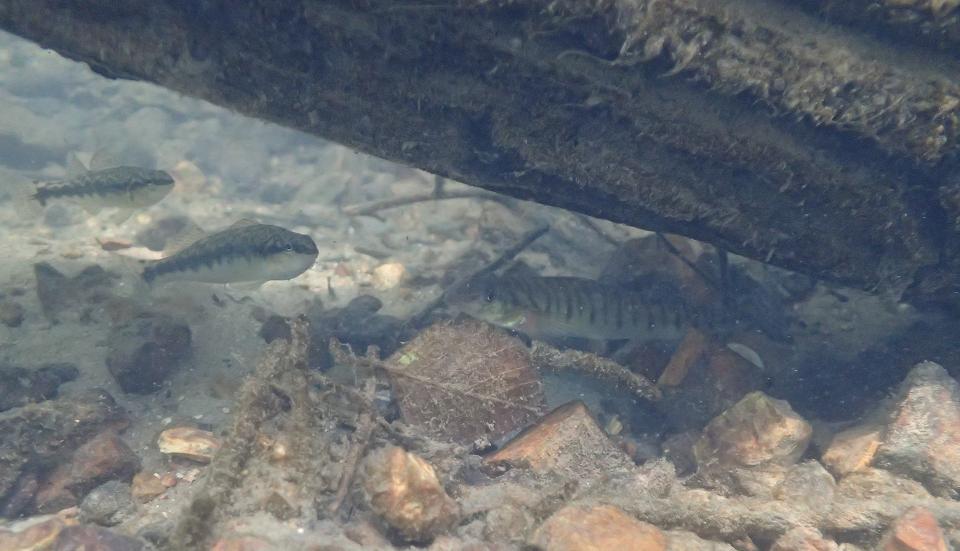 The first fish i saw was a Yellow Perch.  A nice see as they only like cool, springfed waters in this region.  As i was gathering trash i noticed a couple Dusky Darters peering out at me from an underside of woody debris, their favored habitat.  I also noted many, many juvenile Logperch.  This seems to be prime Logperch habitat with all the cobble though vast stretches are silted up sand mounds, runs and banks.  Other Darters noted, in order of commonality, were Tennessee Snubnoses, Bluesides, Greensides and Redlines.  I have seen Banded, Rainbows and Fantails as well.
There were quite a few large River Chub Mounds dusted over with silt.  I have yet to encounter an active River Chub occupied mound here.  I need to make a point of visiting next Spring.
Hogsuckers, Sunfish, Sculpins, Warpaints were also noted but i was mostly focused on trash these 2 days.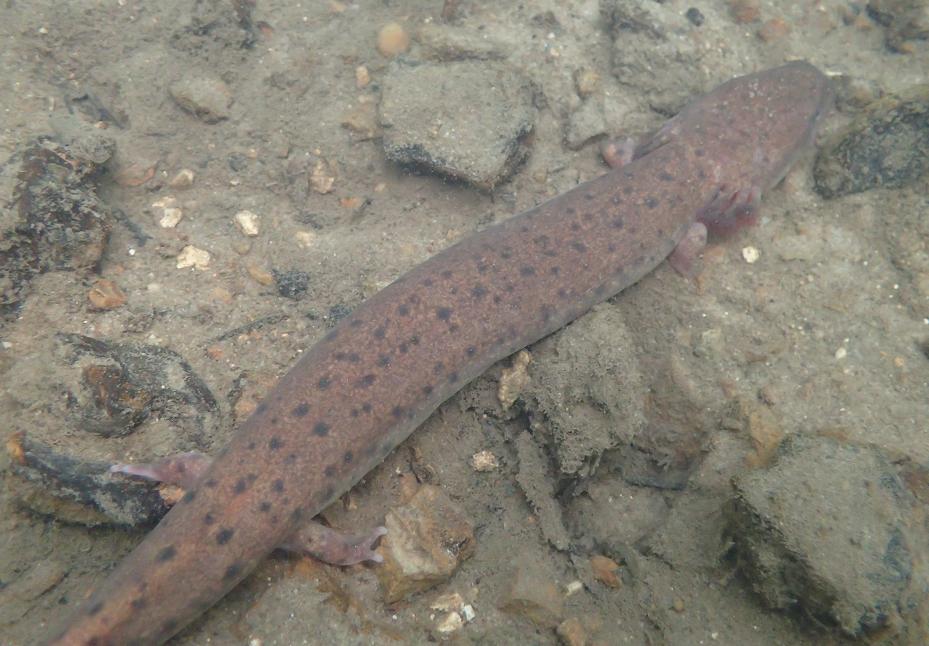 My first big surprise here in sometime... A Mudpuppy.  A friend and i encountered one several miles upstream years ago while hunting for Hellbenders.  DNA water samples have alleged they are here, somewhere, but have yet to be documented, at least to the general public.  In addition to the many springs the creek cascades off the plateau where coal mine stripping was very active years ago.  Perhaps some small tributary holds a refuge of sorts.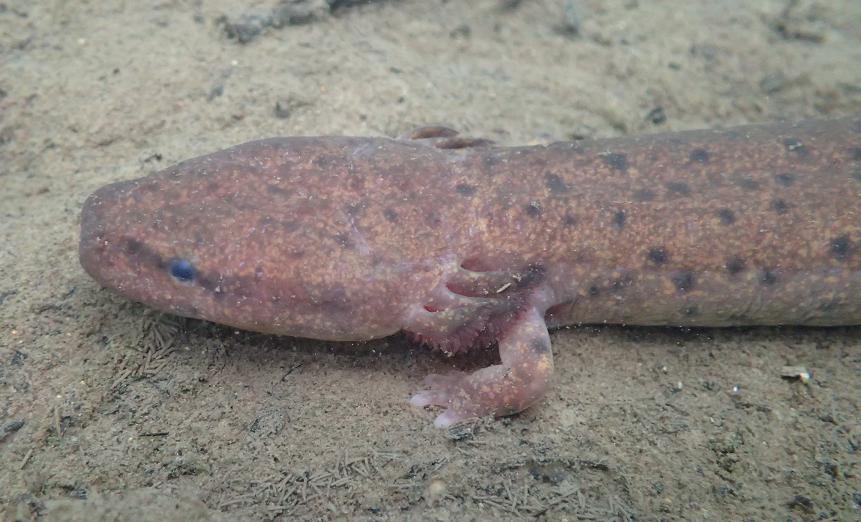 Note the feathery gills.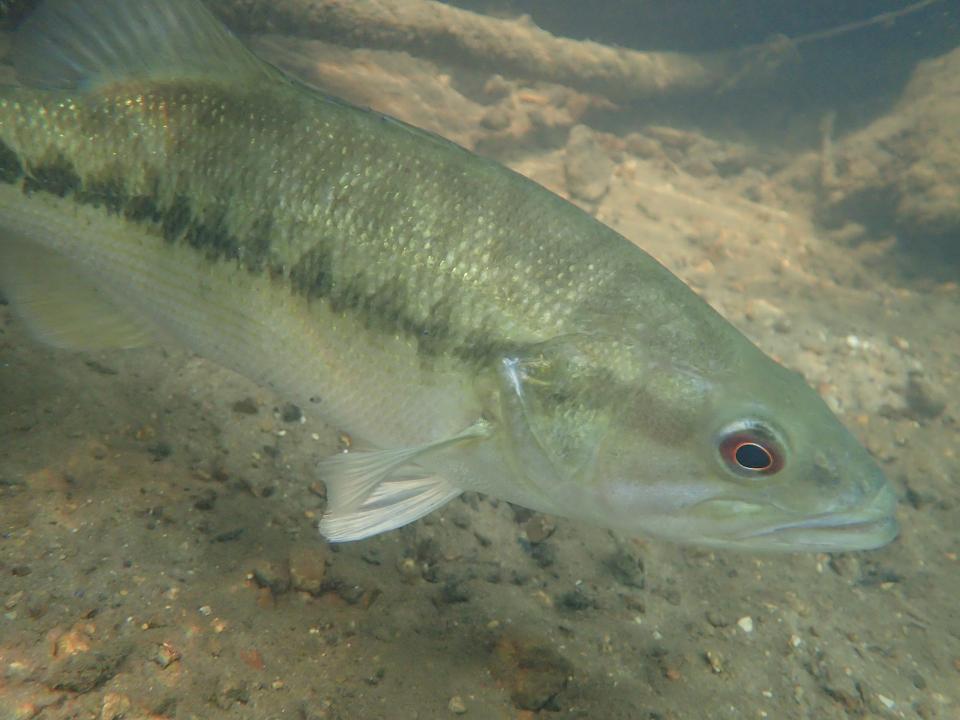 Bass began to follow me as i dislodged tires and debris.  This particular fellow was quite persistent and would nearly allow me to touch him.  Red eye, about a foot long.  Is this a Spotted Bass?  I do not know my Bass well and am often confused.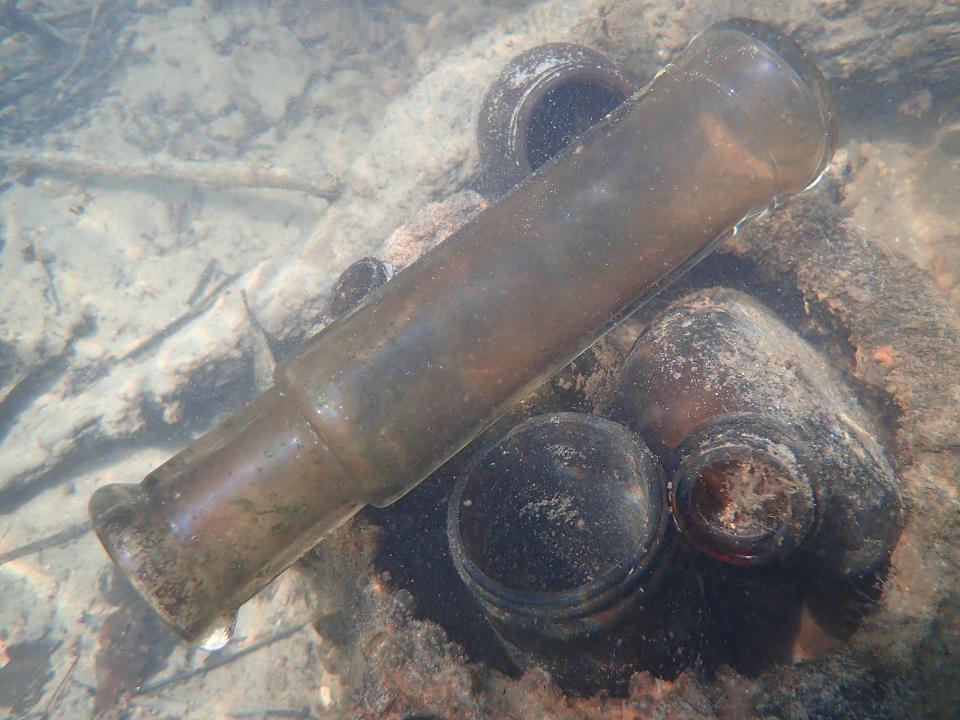 i gathered up about 2 bags of cans, glass shards, beer bottles and plastics, pulled one bag up high on the bank and left another submerged with a bunch of tires for later retrieval, hopefully with the help of trash monger friends.  Last October we pulled 19 tires from the creek and i count about 2 dozen more we can get with effort.
I saved the more interesting relic glass.  At first i thought this was some kind of laboratory glass but maybe it's just a vase.

Leeches are not a common experience but between my fingers i began to itch.  Looking at my hands i saw a scattering of 1/8" long leeches working gaps and fingernail cracks.  I'm still itching as i type!
Edited by Casper, 29 July 2019 - 09:45 AM.