The journey of my latest tank started at the 2019 NANFA convention.  Going in, I decided what trip I wanted to go on, and which fish I wanted to bring home based on my current tank setups. 
Should I have known better?  Of course I should.  Just like many years past, I hooked up with Brian Z and we picked a few spots here an there to do collecting.  I never intended on going so far south.  I really only wanted to see some Pteronotropis...didn't intend on bringing any home.  Guess what?
Arriving back in Kentucky, I realized I did not have a tank with enough room for all these fish...  BUT! I did have an outdoor tub with water and frogbit in it.  I kept this tub setup all the time with driftwood so I'd always have waterlogged wood for use in my tanks.  I dropped in a seasoned sponge filter and the fish...The fish did well for the remainder of the summer.  As fall approached I was concerned about these southern fish and the potential of a harsh winter.  Looking back, we had a very mild winter and they would have been fine. But, I found an ad on Facebook for a complete 40g breeder with filter, lights, and a stand...even better the seller was a friend of mine from church and gave me a good deal.
Acquired:
I work from home and have my desk setup in my basement.  I had a large open area behind my desk thanks to getting rid of some kids toys, so I decided to setup this tank in that space.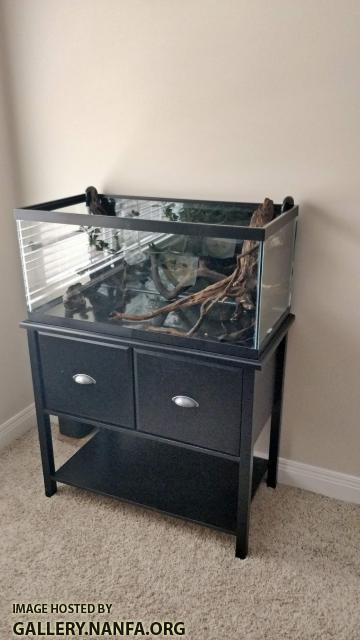 Mock Up: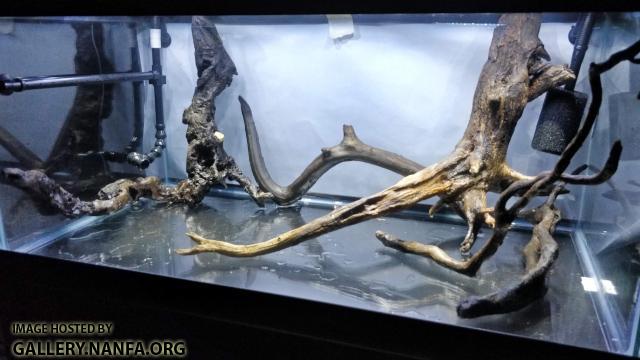 There's a creek about 5 miles from my house that has this awesome substrate.  It's fine and dark and I always thought it would make a great substrate for a blackwater tank.  I used a combination of that and sand.