The big box of sunnies arrived yesterday (thanks for the extras Brian!). All were in excellent condition, and active. I set the bags in the plant tank to temp adjust, and the tank's lone occupant, a 3" bluespot, immediately took a keen interest in the smallest fish in the bags. Sooo, he was evicted out to the garage winter-over pond-plant buckets.
Once the temps were stable, I released the fish and within seconds, they were foraging for food. The tank adjustment period lasted about a minute, after which, they ate a pinch of bloodworms in a frenzy.
Thanks again to Brian for the ease of getting these fish.
Pics from this morning: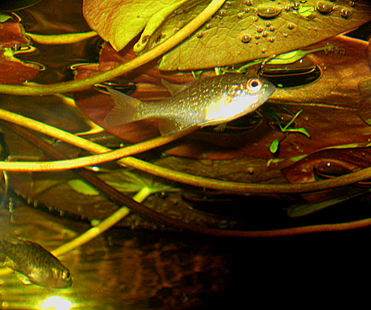 Rick