Not long ago I got a nice school of southern redbelly dace from Uland.
Apparently they liked the conditions in their new home. Maybe it was all the greens to go with the meat. These guys graze algae just like blacknose dace.
Anyway, they colored up real nice and before long a few females were lookin mighty phat.
I surfed the web for breeding tips and found a piece by Robert Rice for NFC [here:http://www.nativefish.org/articles/SRedbellyDaceInAquarium.php] that seemed pretty straight forward.
Here's my set up;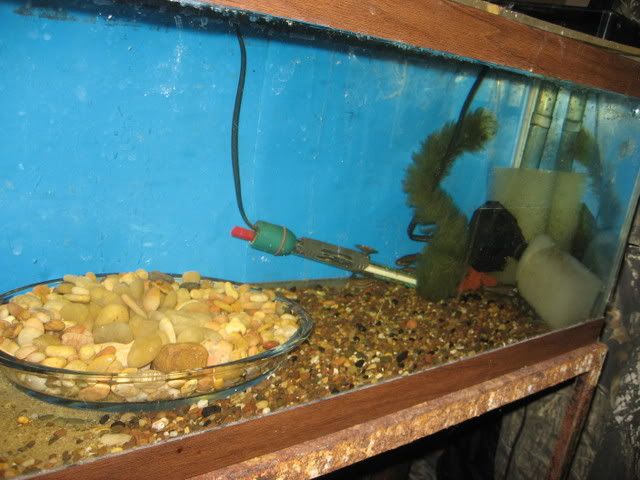 Filtration is an Aquaclear HOB with mature media from the main tank and a foam block on the intake as a sponge filter. Current comes from a powerhead also with a foam block on the intake.
I started with a bare bottom but the fish really freaked till I put a thin layer of gravel down. A pie plate full of smooth rocks is the egg catcher. A heater brought the 65F water up to 72F.
It took the fish two days to settle in and relax.
This morning, just as I was leaving to go to my kids basketball game I spotted this;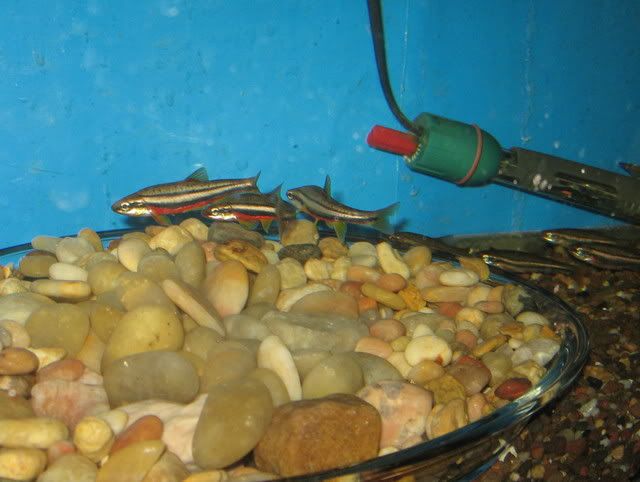 With the whole family literally waiting in the car I grabbed the camera and shot a few poor photos as fast as I could. I figured I'd get another chance but they were done by the time I got home. Although the females looked depleted, they are still pretty chubby so there may be more to come.
This morning's action came before the tank light had come on in the staggered timed sequence. Near by tanks had come on and there was early morning light, almost a crepuscular situation.
Maybe tomorrow I'll get better ones. Until then, here's a few from today.