Some of you may remember my bait bucket rescue of a pair of central mudminnow. I found them by responding to a blurry photo in a "what kind of fish is this?" post in a local icefishing forum. They were trapped through the ice by a pike fisherman who knew just enough to recognize they were something unusual. Turned out they were new records for the state region and drainage and only the second population in the state.
My first impression of them was of how hardy they were. They had spent a week or more in a crowded bait bucket left outside and allowed to partially freeze. When I met the fisherman out on the ice to check out the mystery fish, he tossed 'em into my bucket with about an inch of melt water scooped off the dirty surface of the ice.
Frankly I was doubtful they would survive as they looked pretty beat.
I filled the bucket halfway with chilled water when I got home and left it on the cellar floor to slowly warm to room temp. I set up a 15 gallon tank and dumped in a bunch of algae and pond plants to make a swampy new home for them. After a couple days I dumped 'em in. They prompty disappeared and I didn't see them for about a week.
Once hunger overcame their fear I started seeing them but they were shy. Chopped up nightcrawlers lured them out and soon they were tame. Immediately the larger one started taking on girth while the smaller developed bright blue fins and an aggressive attitude.
The male was tough on the female. He would display for a minute or so and when she didn't resond, he'd attack her and drive her off. Only the thick cover kept her safe but she did get tattered.
Eventually she started to notice her partner with some interest.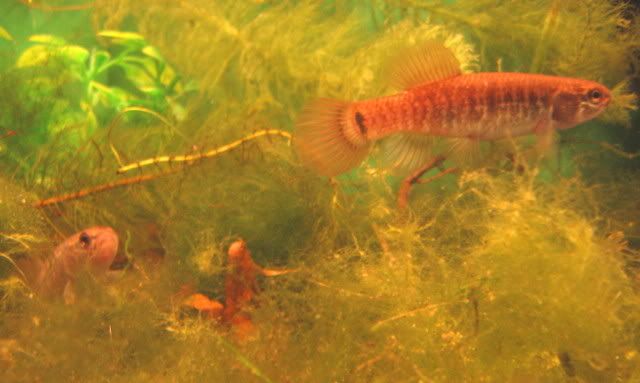 She started allowing him to approach but continued to tease for a few days.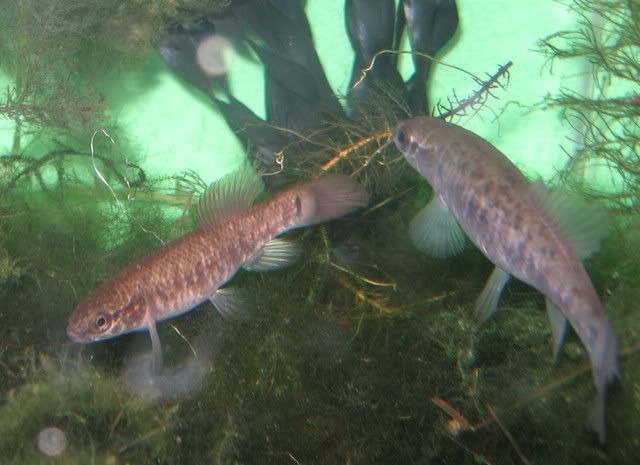 Finally she'd respond for a few seconds before he got impatient and ended up driving her off again.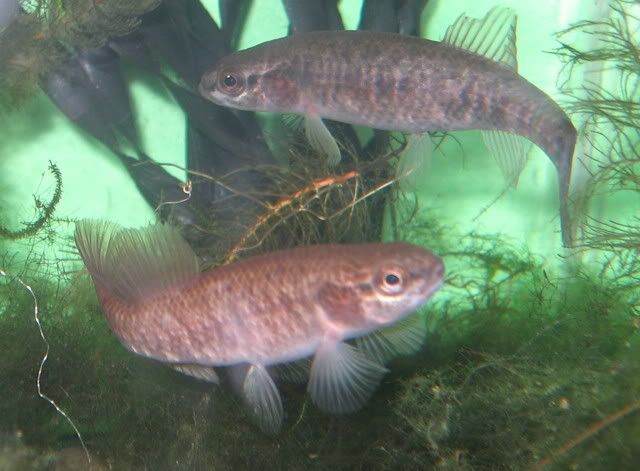 Not long afterward I came home from work and noticed the female wasn't hiding anymore. I also noticed the male was ignoring her. Closer examination revealed she was totally depleted. She also attacked a stick I was using to move the plants to search for eggs.
I removed the male at that point but left the female based on accounts I read that claimed the female would care for the young. I never found the eggs in the thick mat of vegetation and the only care I witnessed was halfhearted defense when I poked around in the tank. She soon gave that up as well and I had no reason to believe the spawn was successful.
Nevertheless I spent a few minutes each night searching for larvae. After about 10 days @ 50-55 F, I saw my first larvae still sporting large egg yolks. I removed the female and also took out half a dozen larvae to observe seperately.
Once the larvae in the observation tank swam up, I carefully removed all the plants and algae in the brood tank so I could catch the fry. I got about 30 and found no fungased eggs. They were large robust fry and actively stalked and captured day old BBS immediately.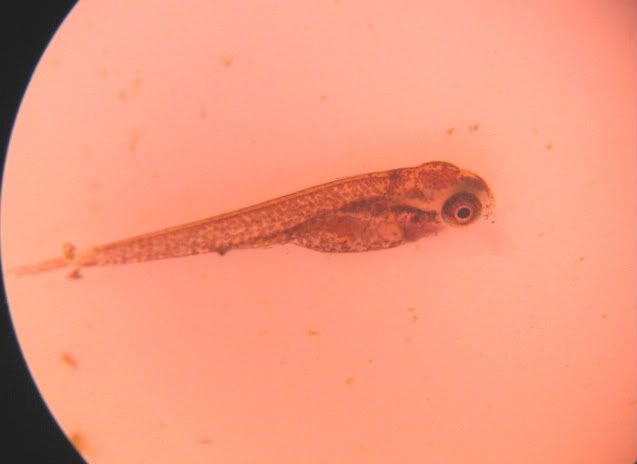 The fry are now in a five gallon tank with a sand substrate a few sparse plants to hide in. The fry are totally tame and relaxed and hunt for BBS, cyclops and baby daphnia all day long. They are very cool to watch and behave like miniture adults hovering motionless for long periods before going on the hunt. When they sight prey, they stalk it exactly like the adults right down to the cute little S curve in the body just before they pounce.