Howdy folks, did a little bit o' outreach this weekend at the Toledo Zoo's "Party for the Planet". I used the wonderful banner Casper Cox created for tables at meetings and outreach, and topped it off with the "Travellin' Fish Show" that was created with Corcoran Education Grant monies. I think it worked out well. I found that people would pick up brochures much more readily if my goony self wasn't standing there. So I went and took care of the Native Plant group (Wild Ones) table that I'm also a big part of in this area. Worked out nice. Got to socialize a bit that way too.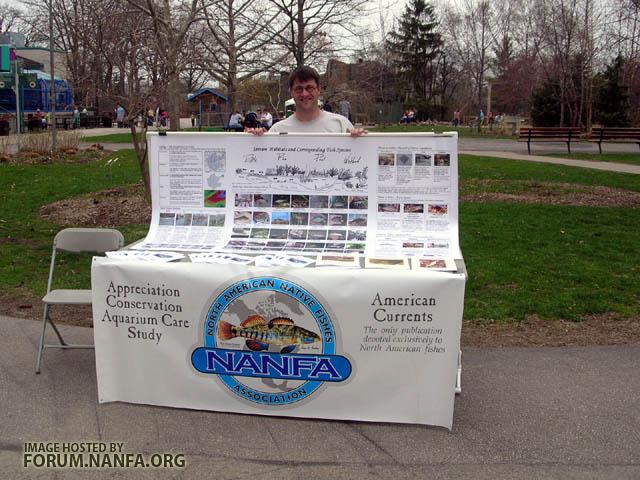 I then met folks back at my house for hotdogs and Fish Room time with the Toledo Reef Aquarists Club (and freshwater too!) who had a table next door to me. Susan Chambers (schambers), a few others and I have generated a lot of interest in that organization in native fishes. Yep, the marineies can't believe good ol' redline darter. I thought about posting one of the "head shots" of rufilineatum to one of the big marine boards and ask "what fish it this that I have acquired?" Fiji? Martinique? The Maldives? Heck no, Shelbyville TN!
We then went down to Side Cut Metropark on the Muddy Maumee for some seining. There had been prolonged flooding, so I knew the back channel would be primed with multi-taxa madness. What we caught was beyond surprising.
Our total tally was 24 species... The two fishes of note are silt intolerants, one native, one "exotic". Both cool as heck, and both indicitive of water quality changes, both for the good, and for the compromised.
We caught 2 trout-perch, which had been contemporarily undocumented (extirpated) in the Maumee until 2 years ago (Brian, can you check that record?) when Mark Binkley caught one in the fall. The turbidity drops massively by fall, so we just thought it was a WAIFing male or something. Well, one of the fish we caught was graaaavid. So this may be the start of a great thing. I took some time with the male (I didn't want to disturb the female any more than we had).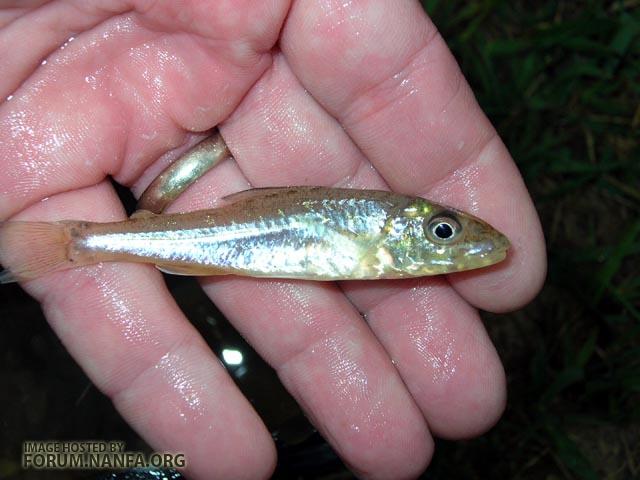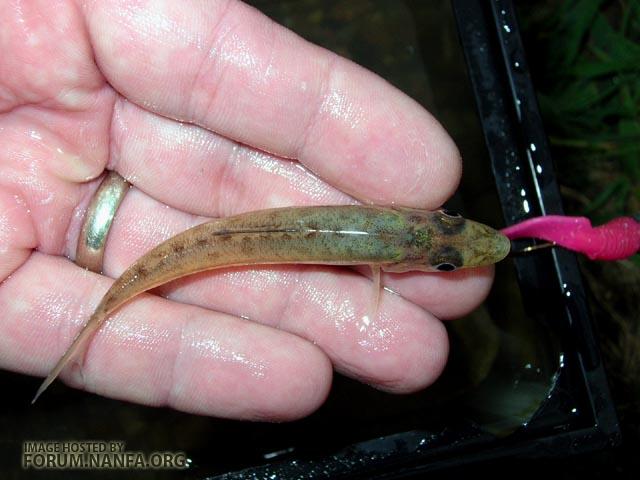 The second surprise came in the form of the exotic rainbow smelt. Like the sea lamprey, this is a fish that gained access to L. Ontario through the Erie Canal and around Niagra Falls through the Welland Canal. They're incredibly abundant in the Central and Eastern basins and the Upper Lakes, but are much less frequently found in the Western Basin (which is changing). If you're not familiar with this fish, they have quite a surprise. They're a silvery fish that gets an immaculate "prizam" effect on their scales (the rainbow of the smelt). But their real treat is in their mouth and especially on the tongue!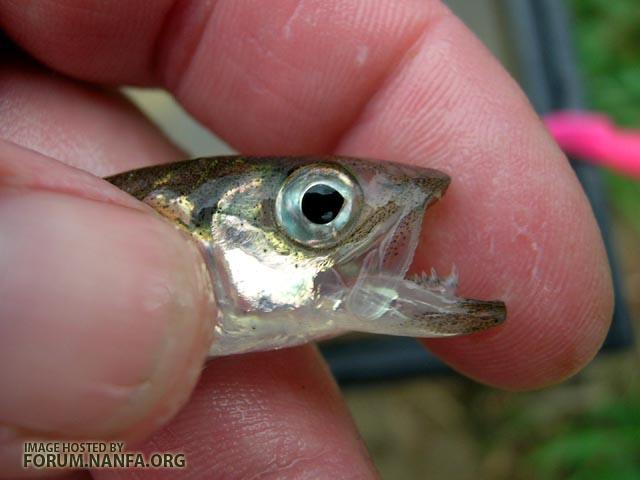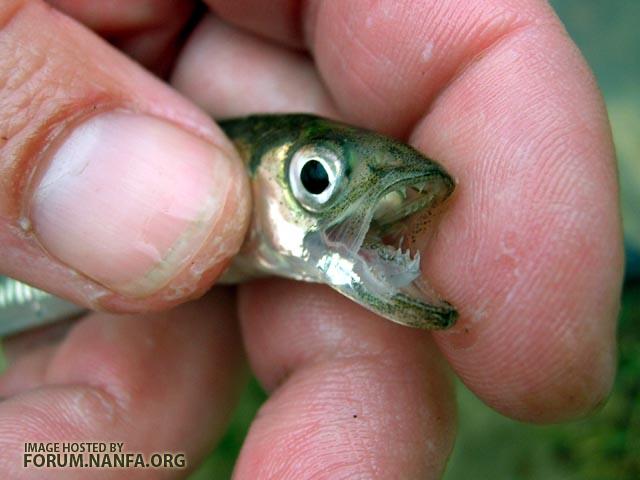 Like something out of a sci-fi horror movie... Especially if you're a mysis shrimp!

We then hopped over to Tenmile Creek for some orangethroats. I think that really surprised folks. They thought darters were rare or something, but quite the contrary. We ran out of light there quickly, so they didn't get to see the colors as well as I would have liked. But now they know

Todd
Maumee River, Side Cut Metropark 4/19/08
8' Seine
Emerald Shiner (Abund)
Spottail Shiner (5+)
Ghost Shiner (30+)
Sand Shiner (3)
Spotfin Shiner (2)
Bluntnose Minnow (Abund)
Common Carp (1 juv)
Quillback Carpsucker (3)
Golden Redhorse (15)
Shorthead Redhorse (1)
Trout-Perch (2)
Rainbow Smelt (1)
Rock Bass (30+)
Green Sunfish (1)
Orangespot Sunfish (40+)
Smallmouth Bass (40+ Some over 2 lbs)
White Crappie (3 - 1 over 1lb)
Black Crappie (2 - 1 over 1lb)
White Bass (1)
Greenside Darter (1)
Johnny Darter (15+)
Yellow Perch (1)
Logperch Darter (15+)
Freshwater Drum (1 dead)
Tenmile Creek, Harroun Rd. Bridge, 4/19/08
8' Seine
Central Stoneroller (10+)
Orangethroat Darter (30+)
Johnny Darter (5+)
Blackside Darter (10+)