Hi everyone,
As many of you know, I'm the aquarist at Bass Pro Shops in Rossford, OH. One of my favorite things about the job is educating the public about our native fishes. Twice a week, I give presentations there and talk about the fish in our aquarium. That is followed by a feeding demonstration. The kids love it, and that's important. I try to be as imformative as possible while presenting, but also keep it fun for the kids. To aide me in informing the public, I've prepared an educational binder that is on display in front of our aquarium. Each page of the book highlights a specific species of fish found in the aquarium. Here's a picture of what the binder looks like on its podium in front of the tank.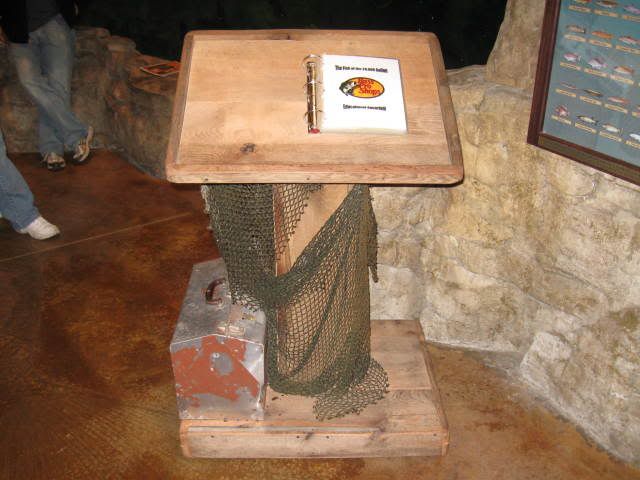 Here's a picture of what a customer would view of the binder.
As you might be able to tell from the pictures, the species profile consists of the fish's name, a photo, a distribution map, and some interesting facts about the fish. (I tried to relate the facts to "fishing facts" being that we are Bass Pro). The reason why I'm informing everyone here is because I'd like to thank some of the Nanfa members here for helping with the production of the binder. Namely teleost, smbass, and fritz, donated photographs for use in the book. I'll attach the pages their photos were used on. Also, I've included Nanfa in a "thank you" section at the back of the binder. I'll attach that as well.
I've recently been approved to create these binders for the other Bass Pro stores. The next one I'll be working on is the one for Cincinnati. After that, I'll turn my attention to Bollingbrook, IL and Gurnee, IL. I know for the Cincinnati store, I'm going to need a good photograph of a Hybrid Striped Bass. If anyone has a photo that they'd like to share for the creation of this next binder, please PM me.
Thank you, and I hope you all enjoy.
-Nate

Rock_Bass.doc
1.43MB
23 downloads

Muskellunge.doc
612KB
17 downloads

Blue_Catfish.doc
330.5KB
12 downloads

Back_Page.doc
55.5KB
16 downloads