I found this in my 55 gallon tank today.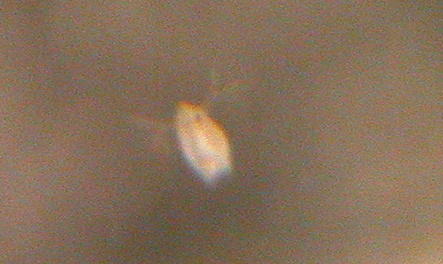 Forgive the picture quality; it is hard to take a picture of something so small that is moving in 55 gallons of water.
I raised some Greensided and Fantail Darter fry in this tank in my basement. In November, the tank was emptied and stood on end outside. Three weeks ago, I brought the tank inside. A week ago, I added filtered tap water, peat, mops, paramecium, and 2 green beans. The peat was new from a bale and had been soaking for 2 months in a bucket in the basement. The mops came from a tank with
Epiplatys singa
, and some eggs were visible. The paramecium came from my culture which has been going for 2 years. The green beans came from the kitchen and were to feed any infusoria.
I was in Arkansas collecting fish for a week, came home, and found no fry but a dozen daphnia.
This wouldn't have worked if I was trying to get daphnia.
Your thoughts?