All,
A Saturday Salmon Spectacular: Saturday, October 17, 9AM - 3PM, the Wisconsin Department of Natural Resources
Root River Steelhead Facility
will be holding its
first public open house
to showcase the facilities operations and promote Lake Michigan fishing opportunities. The open house will include guided tours of the facility with hands on
demonstrations of fish spawning procedures
by DNR fisheries personnel. Other activities include fish and fishing information stations, interactive fishing rod casting lessons, knot tying, fly tying, boating safety presentations, and an on-site fishing boat used on Lake Michigan for targeting salmon and trout.
This is definitely a day to be marked on your calendars, and everyone is encouraged to attend this fun filled function. From the beginner angler to a veteran fisherman, the open house will have something for anyone interested in Lake Michigan and its world class trout and salmon fishery.
The Root River Steelhead Facility is home in historic Racine, Wisconsin, and is located in Lincoln Park along the beautiful Root River. The facility was built in 1993 by the DNR, in partnership with local fishing clubs and the U.S. Fish and Wildlife Service, to aid in the capture and egg collection of migrating trout and salmon. Millions of trout and salmon are stocked annually into Lake Michigan tributaries, where they spend their young lives before entering Lake Michigan. The adults eventually retum to the same stream to perform their annual spawning rituals.
Wisconsin DNR, Salmon Unlimited, Southeast Wisconsin Trout Unlimited, and Kenosha Sportfishing and Conservation Association strongly encourage people of all ages to take part in a great day at a great place along the great Root River. We hope to see you all there!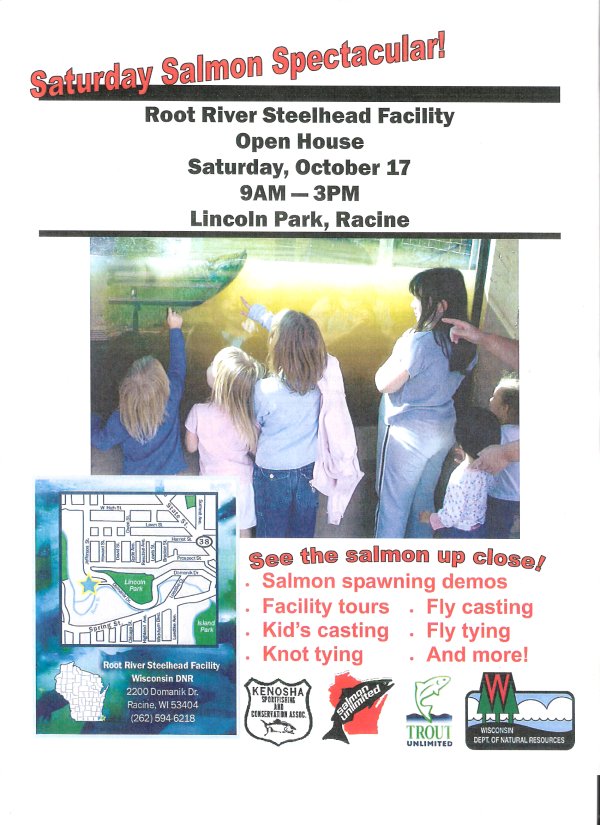 Brian