Last Sunday's Chattanooga Times Free Press frontpage headline story featured a color picture of Dave Neely, or a youthful stand in, and 2 fellas peering into their dip nets looking for Coldwater Darters.
"Wanted: Clearer Home for Darter. Saving a fish, not stopping progress".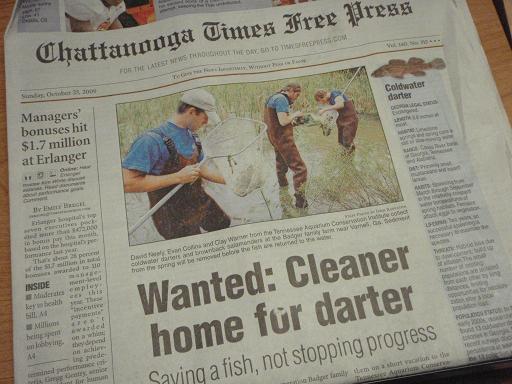 These darters are an endangered species found in spring runs and pools leading to the Conasauga and Coosa River basin. 13 colonies were found in the early 2000's but today only 7 colonies are persisting. The crew were netting out the darters along with Brownback Salamanders and other critters before commensing to power vacumn out the silt and sediment from a spring near Varnell, Georgia. Organizations like the Conasauga River Alliance has been working for more than the last decade to restore and promote a healthful return to the Conasauga River. The Alliance's director spoke at the 1998 NANFA Convention the day before David Etnier led a field trip there.
Just a couple nights ago The Alliance was featured on the PBS program "Tennessee Wildside"
while doing a stream bank restoration project. When exposed ground washes into a stream the resulting sediment and silt will smother out many forms of stream life. Many species of our native fish including the Rainbow Shiner, cannot reproduce in this mud as they require a clean sand, gravel and rock substrate.
Its nice to read and hear of such efforts and for them to be acknowledged by the media and subsequintly the public. Our native fish need all the help they can receive. If you are not a conservationalist when you first begin to appreciate Native Fish you will likely soon be one. Culvertized, trash laden, muddy ditches are not a healthy natural habitat.
You can see other video excerpts from Tennessee Wildside by following this link.
Alligator Gar, Mussels, The Duck River are some of the offered videos.
http://www.tnwildside.org/
Edited by Casper Cox, 29 October 2009 - 06:25 PM.