I have a couple updates, one that I meant to say something about last week, as well as something new.  I'll start with the new tidbit.  A new colony of bryozoans like the snowflake shaped ones that are growing on the right side glass appeared on the left side, almost in the same location.  It appears that they prefer the darker areas of the tank.  Either that, or I keep scraping them off when I clean the front glass.
The event that happened last week freaked me out, but I guess that I shouldn't have been all that surprised.  Striped blennies are pretty fearless and tough characters in the tank.  Even the smallest ones are brave and chase away both the gobies and the skilletfish (although both of the other species will chase them off too at times).  But, I never expected this to happen: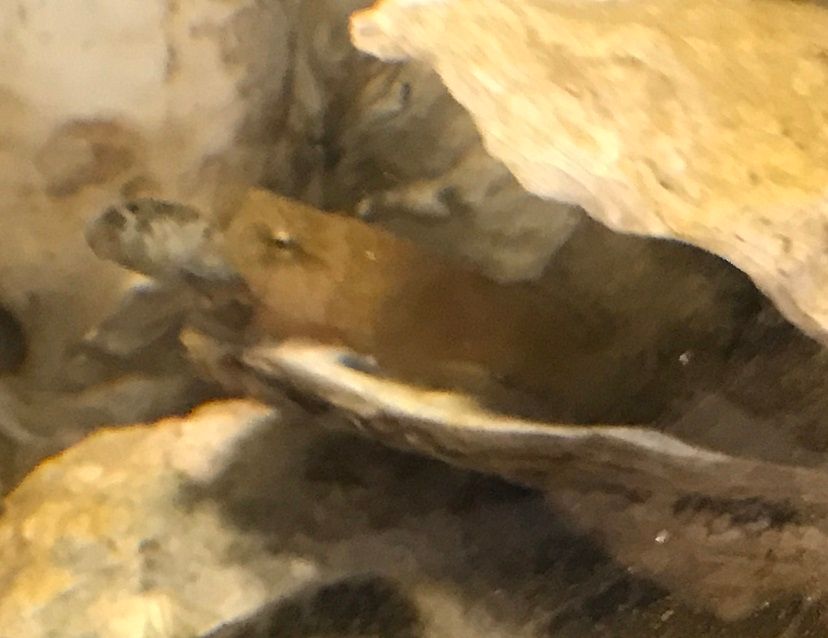 It occurred in the 20g high tank.  Yep, I lost a juvenile blenny due to skilletfish predation.  This medium sized skilletfish ate my blenny!!!!  I saw it happen.  It wasn't a scavenging event.  I couldn't believe it.  All of these fish had full bellies.  I mentioned last week that I gave all of the fish away from that tank, but this one little blenny was going to move to my 20g long tank.  All he had to do was make it one more day.
Anyway, that is something to keep in mind when keeping skilletfish or similar clingfish.  They have large mouths, and, although most of what you read about them says that they eat worms, amphipods, small crustaceans, etc., they will also eat fish, even small more aggressive ones.