I got a little more work done on this over the weekend. I have actually had the cabinet doors since last weekend, but due to a back injury I haven't been able to hang them yet. I went to Lowes and they were out of the hinges I need in black. I'm going to get the hinges somewhere else this week and hopefully have the stand completely done by the end of next weekend.
I did get the canopy 1 step closer this weekend. Maybe you could tell from my last posts, but I wasn't happy with the angle the lid opened, so I changed all of that. I moved the side braces back so the lid-stay could be moved to another position. I repainted and repolyurethaned the inside. The polyurethane turned the white paint kinda yellowish, but it is on the inside and is still very reflective...though I don't think it's a big deal. All black wouldn't hurt the amount of light actually in the water that much. I finally decided on some lights and got them mounted. I was going to use a fluorescent wrap but, I didn't like the idea of adding a plug to a hardwire light, so I went with a shop light. These have a pull-chain, but I'm going to cut that short.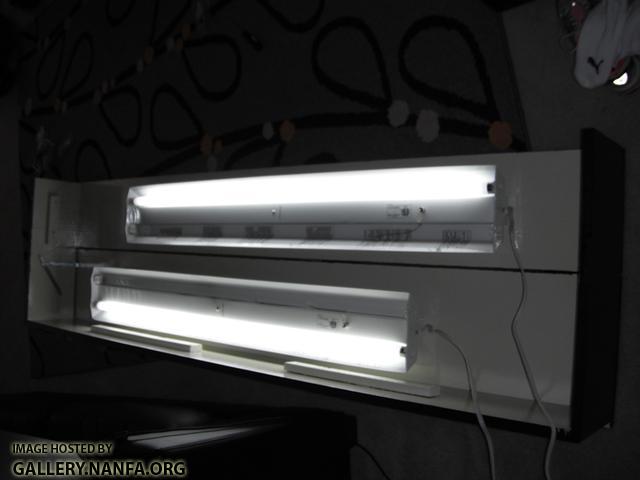 2 Dual T-8's, each offseat from center opposite from each other to distribute the light equally.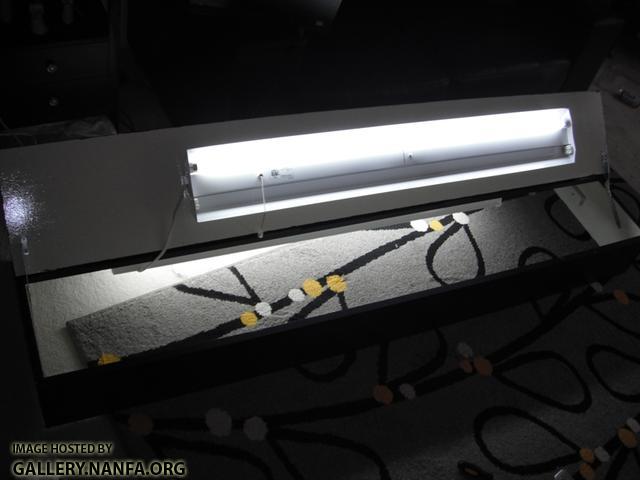 As you can see, the lid leans back much farther now. I'm much happier with this now.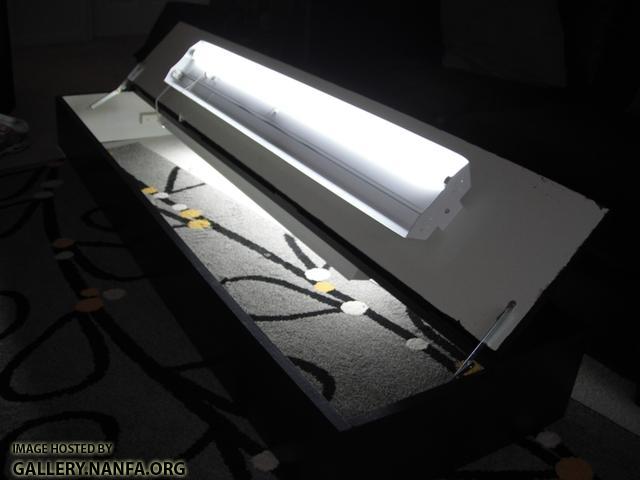 I will be adding two more bulbs to the lights. A 10K and a more full spectrum bulb, maybe an 18k full spec aqua-glo. I have also ordered two cpu case fans that I will be adding to the rear of the canopy to help vent it.
One of my favorite things is the aquarium at night. I love my moonlights, but CurrentUSA are now making a different kind of lunar light and I dont really like the looks of it. Using
THIS
DIY I am going to try Cold Cathode for lunar lights. I am going to get
THESE
and try it out. However, I am afraid that they may be too bright. I am going to wire it up on an adjustable DC adapter so I can change the voltage and dim them. I have found a dual 4in strips, I wonder if they would be better? I hope to get the fans and moonlighting done this week too.
To Do: that I can think of.
Stand - Hang the doors, paint them.
Canopy - moonlights, fans, screen
Tank - Background, tubing mock up, anchor the driftwood, fill'er up
Edited by jblaylock, 23 January 2011 - 05:59 PM.